Front of House: What Do I Need to Know about Being a Server?
17 December 2009
By Wendy Gay, CHE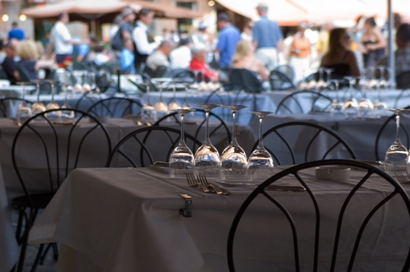 It's easier to teach how to set the table and serve the guest than to teach the emotional skills of being passionate, caring, hard-working and intelligent.
Teaching front of the house to culinary students can be a very interesting proposition. Most students come to school to learn to cook, "not," as more than one student has retorted, "to act like some kind of server." We have some students who resent and resist being outside the kitchen. "I'm going to be a chef like those guys on TV. What do I need to know about table service?"
In addition, some students have very poor people skills and are very introverted. They can be ineffective communicators and come across as impatient, condescending, grandiose or insensitive. It's our job to teach them skills and an understanding of what happens in the front of the house—which can make or break the dining experience—and that a good chef needs to know what is happening out there. But that can sometimes be a tough sell.
With that in mind, let me ask one important question: Where and how do you start to teach front of the house? There are so many aspects of what happens out front. How do you begin this part of your students' education? Do you just send them out to the front of the house assuming they know what to do? Of course you don't. Do you start with a basic understanding of the meaning of customer service? Or maybe you drill specific steps of service, or talk about the various styles of service. How do you begin?
The place to start is with an understanding of the attitude of service. Once that is in place, the skills make sense and follow right along. The attitude of service conveys that we are there for the purpose of making certain that the diner has an exceptional dining experience. This customer-centered focus is the foundation of each of the skills we teach.
One of my favorite ways to start teaching this is by example. I have surprised a student in my class by presenting a birthday cake and singing "Happy Birthday" to him or her, even though I know it is not his or her birthday! I treat this student like a prince or princess for the whole class. Without verbalizing my motive, I am demonstrating how you should wow a guest and make him or her feel special!
To be a great server, you need to be passionate, caring and perceptive. The service staff must be focused on their guest's enjoyment. It is easier to teach the student/server how to set the table and serve the guest than it is to teach the emotional skills of being passionate, caring, hard-working and intelligent. You must be intelligent enough to deduce if guests are dining for business, fun or romance.
As front-of-house professionals, we must welcome, connect with, exceed expectations of and feed our guests. Passionate people create hospitality, and hospitality is what the restaurant business is all about: making your guests feel welcome. How do you teach your students about the front of the house?
---
Wendy Gay, whose career as a hospitality consultant has allowed her to provide service training to private clubs, restaurants and bed & breakfast inns throughout the country, is director of catering at The Westin Atlanta Perimeter North Hotel.
Photo credit: © Jacek Kutyba | Dreamstime.com, http://www.dreamstime.com/free-stock-image-vine-glass-rimagefree1674917-resi1793763