MARS Foodservices Announces Culinary Educator as Winner of 2013 Chef Showdown Dessert Recipe Contest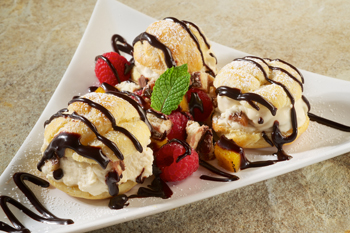 Chef Michael Watz, instructor at Washburne Culinary Institute in Chicago, is the winner of a $2,000 cash prize for his recipe entry in the MARS Foodservices Chef Showdown 2013 Dessert Recipe Contest. His original recipe, Mascarpone TWIX® and Shout,combines TWIX® Caramel Cookie Bars and mascarpone cheese to create a luscious filling for delicate cream puffs topped with roasted mango, fresh raspberries and chocolate sauce.
"It's a new recipe and it was developed with TWIX® Caramel Cookie Bars as the inspiration," Watz said. "I wanted a unique way to present the candy in a new and meaningful way. It's a contemporary dessert that can be marketed in an upscale restaurant, but also would be appropriate as a mid-price-range recipe at a steakhouse wanting to add something different. The Chef Showdown recipe contest was a great opportunity to work with a quality product. I certainly enjoyed the creativity aspect of it and I look forward to working with MARS candy brands in any capacity."
MARS Foodservices awarded two runners up—Adam Hegsted, executive chef at Coeur d'Alene Casino in Worley, Idaho, for his dessert creation, Molten SNICKERS® Cake with Whipped Peanut Butter and Warm Caramel Sauce, and Amber Croom, head pastry chef at Bellini's Ristorante & Bar in Birmingham, Ala., for her recipe, Twixmisu Cocktail.
For more dessert recipes and menuing inspiration, visit www.MARSFoodservices.com.