Maple Leaf Farms Crowns Tops Culinary Students and Chefs in 2013 Chef Recipe Contest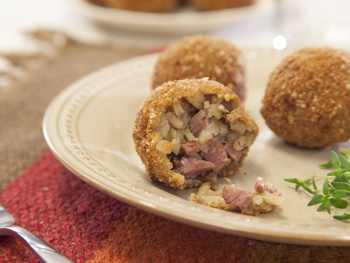 Entries in the 2013 Discover Duck Recipe Contest prove great tastes come in small packages. Sponsored by Maple Leaf Farms, the annual contest challenged professional chefs and culinary students to produce an original appetizer or small plate recipe showcasing Maple Leaf Farms duck. Nearly 250 entries from across the country were submitted, competing for more than $15,000 in cash prizes.
Duck Doughnuts with an Apple Honey Sauce captured the Chef Category Grand Prize, earning Chef Geoff Kelty of Eddie Merlot's Steakhouse in Columbus, Ohio, $5,000. Chef Keoni Chang, corporate chef and director of prepared foods for Foodland Supermarket in Honolulu, Hawaii, claimed the second-place prize of $3,000 with his Duck & Lemongrass Skewers with Hoisin Peanut Dipping Sauce recipe. Duck Liver Crème Brûlée took the $1,500 third prize for Chef Barry Greenberg, executive chef for the University of Iowa in Iowa City. Open Faced Duck Pastrami Sliders Deconstructed and Smoked Duck Arancini with Hazelnuts and Truffles (pictured) each captured $500 for Gary Ullman, commissary chef of Barnies Coffee Kitchen in Orlando and Eric Stein, RD, CCE, former chef-instructor at Kendall College, Chicago, respectively.
Recipes were judged on creativity/originality, accuracy and method of the recipe and best utilization of duck products. "Duck is a natural fit for today's global cooking culture," said Maple Leaf Farms Director of Duck Marketing Cindy Turk. "We were awed by the passion and talent demonstrated by the chefs and the breadth of creative duck preparations."
The Student Category offered two top prizes. $2,500 was awarded to Raquel Kramer, culinary student at Johnson County Community College in Kansas City, Mo., for Asian Duck Empanada with Cherry Ginger Sauce. Alison Settle from Sullivan University, Lexington, Ky., captured the $1,500 second prize with Kentucky's Summer Harvest.
Finalists, each winning $500, included Jameson Alford, Columbus Culinary Institute at the Bradford School with Ancho Glazed Duck and Waffle; Matthieu Henry, Columbus State Community College with Savory Chevre Bread Pudding with Chinese Five Spice Smoked Duck and Vanilla-Port Asian Pear; and Derwin Jackson, Le Cordon Bleu College of Culinary Arts, Atlanta, with Peking Duck Cipollata & Chips.
To view the winning recipes and photos, visit the contest web pages at www.mapleleaffarms.com/chefcontest/.