Disciples Escoffier International-USA Inducts Chef Thomas Recinella, Program Director of Baker College of Port Huron's Culinary Institute of Michigan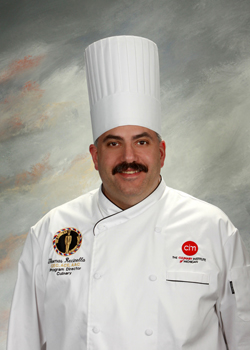 Thomas Recinella, CEC, ACE, AAC, program director for Baker College of Port Huron's Culinary Institute of Michigan, has been inducted into membership of the prestigious Disciples Escoffier International-USA.
This premier gastronomic society was founded to honor renowned French chef Auguste Escoffier (1847-1935). Its members are culinary professionals who maintain French haute-cuisine standards, promote relationships between professionals and students, organize culinary events, collaborate closely with schools, and unite all Disciples Escoffier from around the world in the true "Esprit Escoffier."
"Chef Recinella's induction into Disciples Escoffier honors his dedication to the culinary arts and his vast contributions to our culinary-arts program," said Dr. Connie Harrison, Baker College of Port Huron president. "We are proud of his accomplishments and are excited about what his association with this elite gastronomic society will add to our students' experience while at the Culinary Institute."
Recinella was inducted into the society with seven other industry professionals at the Disciples Escoffier-USA third annual dinner in Las Vegas this summer. There are approximately 150 Disciples Escoffier members in the United States and more than 20,000 worldwide.
Recinella came to Baker College a year ago, charged with expanding its world-class culinary arts program in Port Huron. He previously served as culinary-arts director at State University of New York, where he was a member of the teaching staff for 13 years. Other positions he has held in his nearly 30-year career include manager and co-chef with his wife at Winnisook Club, the oldest private club in the Catskill Mountains; owner and chef de cuisine of Main Street Bovina, a fine-dining restaurant, catering business and retail grocery store in south central New York state; and chef de cuisine at Heathers Golf and Country Club–Total Golf, Inc., in Bloomfield Hills, Mich.
The largest private college in Michigan, Baker College is accredited by the Higher Learning Commission and is a member of the North Central Association of Colleges and Schools. It is a nonprofit higher-education institution, serving more than 35,000 students on 12 campuses and in three satellite locations. Baker grants certificates and associate, bachelor's and master's degrees in business, health sciences, education and human services, and various technical fields, as well as a doctorate of business administration. As a career college, the Baker College system reports that 97% of its available graduates are employed. For more information about Baker College, visit www.baker.edu.