Sullivan Graduate Named 2013 Culinary Student of the Year by the Kentucky Restaurant Association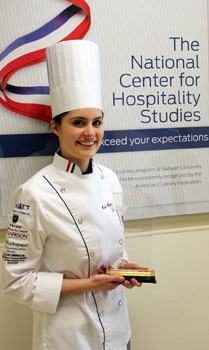 The Kentucky Restaurant Association has named Sullivan University National Center for Hospitality Studies graduate Kendall Knies the 2013 Culinary Student of the Year. The 2013 Restaurateur's Gala and awards ceremony took place on Jan. 21 at the Brown Hotel. Knies is a native of Celestine, Ind., and a 2012 graduate of the Baking and Pastry Arts program at Sullivan. She is currently employed at The Bakery at Sullivan University. Knies was one of four Sullivan students who recently participated in the IKA World Culinary Olympics in Erfurt, Germany, where she earned a diploma.
The Kentucky Restaurant Association is a nonprofit organization run by its almost 1,000 members. The association is involved in a range of activities such as student scholarships, legislation and expos. State headquarters are located in Louisville. The organization honors the success of one culinary professional in each category of restaurateur, manager, supplier, employee, chapter member and student at its annual gala.