NYC Celeb Chef Waldy Malouf Joins The Culinary Institute of America as Senior Director—Special Projects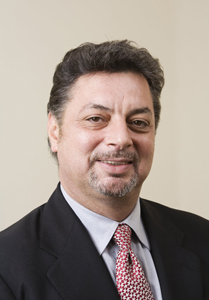 Highly accomplished chef, restaurateur and author Waldy Malouf has a new mission. After a successful 13-year run as co-owner and chief operating officer of Beacon in New York City, Malouf became the senior director of special projects at The Culinary Institute of America (CIA) in Hyde Park, N.Y., on January 21, 2013.
Malouf returns to the college from which he graduated in 1975 to work with the college's food and beverage team to contribute to the ongoing refinement of all nine restaurants at the CIA's three U.S. campuses. Both the kitchens and dining rooms of the restaurants are capstone classes for CIA degree students, where they put their culinary and hospitality education into practice. CIA restaurants have been a key component of the curriculum for the past 40 years, and they have earned dozens of awards and accolades during that time.
"The closing of Beacon presented the CIA with a rare opportunity to bring one of New York City's finest restaurateurs—and an alumnus—onto our staff," said CIA President Dr. Tim Ryan, CMC. "With his depth of knowledge and success in the dynamic and constantly evolving restaurant industry, Waldy will support our faculty in delivering the crowning element of a great hands-on education for our students."
In addition to running Beacon, Malouf is known in the New York area for his time as executive chef and director of operations at the Rainbow Room and executive chef at the Hudson River Club and Le Cremaillere. The signature cuisine he developed at the Hudson River Club featured the culinary riches of the Hudson Valley, which resulted in The Hudson River Valley Cookbook (Addison-Wesley, 1996). Malouf is also the author of High Heat: Grilling and Roasting Year-Round (Random House/Broadway Books, 2005).
"I'm looking forward to helping bring the already superb CIA restaurants to another level of excellence that will complement the level of education the college delivers," Malouf said. "The CIA restaurants are uniquely positioned to provide both the best possible culinary education for students and dining experiences for guests at the same time."
Malouf co-founded the Windows of Hope Family Relief Fund after September 11, 2001, and remains one of the organization's three directors. He is also a former chairman of the CIA's Alumni Council and served on the college's Education Committee.
---
Photo: Waldy Malouf '75 joins the staff of The Culinary Institute of America in January 2013 after a long and successful career in the New York City restaurant scene. Courtesy of the CIA/Keith Ferris