Emmi Roth USA Announces Winner of Le Gruyère Recipe Contest; Gluten-Free Waffle with Quince Syrup Takes First Prize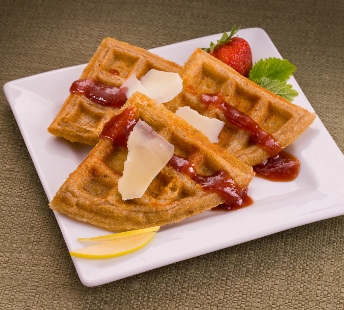 Emmi Roth USA, the U.S. division of the premium Swiss dairy company, announces the winner of its recipe contest that challenged postsecondary culinary-arts students to create a dish with Emmi Kaltbach Cave-aged Le Gruyère Switzerland AOC. The winning dish, a gluten-free, cayenne-spiced Le Gruyère waffle with quince syrup, was created by Titus Edwards, 21, a student at Central Carolina Community College in Carrboro, N.C. The recipe, which perfectly blends the earthiness of Le Gruyère with the heat of cayenne and sweetness of quince, is on-trend in the culinary world through its address of the increasing sensitivity to gluten among consumers, as well its versatility—pairing well with fried chicken as breakfast-for-dinner, or with eggs and sausage for a sophisticated brunch meal.
"As a company dedicated to the support of culinary education through cheese-inspired opportunities for students, we were excited to present this challenge and delighted with the results and the excitement the students have shown for the competition," said Jennifer Hamm, marketing manager, Emmi of Switzerland. "Cheese, and especially Le Gruyère, is such a versatile ingredient, and it was inspiring to see what these fresh culinary minds were able to create. We are so grateful to all of the students who participated and to the instructors who encouraged them to participate. Judging by the creativity we saw in the entries, we expect these students to have bright futures in the culinary world."
The competition, which was promoted exclusively by the Center for the Advancement of Foodservice Education (CAFÉ), challenged students to create a dish that highlighted Le Gruyère in a center-of-the-plate application. As the first-prize winner, Edwards, who has only been studying culinary arts for four months, will receive $1,000, and his referring instructor, Regina Minter, will receive free registration to a 2012 CAFÉ conference or workshop.
The runner-up in the recipe contest was a Kaltbach Le Gruyère and Brussels Sprouts Timbale, an egg-based creation submitted by Mary Annette Sears, a student at Mount West Community and Technical College in Huntingdon, W.Va. Sears has been in the culinary program for two years. Her referring instructor, Christopher Bugher, will also receive free registration to a 2012 CAFÉ conference or workshop.
To view the winning recipes, visit www.EmmiRothUSA.com.
Kaltbach Cave-aged Le Gruyère Switzerland AOC is matured through a proprietary curing method for over 300 days in the Kaltbach caves to create boldly complex flavors with layers of earthiness and sweet, herbal undertones. It was recently awarded a Gold Medal at the 2011 World Cheese Awards. Recipes highlighting the specialty cheese that were selected as finalists included a Creamy Le Gruyère Seafood Bisque, a Pastelón de Papa, a Pear and Le Gruyère Gallette, Triple Play Penne with Le Gruyère and Le Gruyère Vol Au Vent.