Sullivan University Honors Ghyslain Chocolatier Chef/Owner Ghyslain Maurais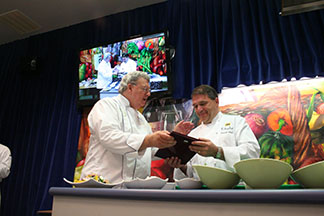 Sullivan University's National Center for Hospitality Studies (NCHS) in Louisville, Ky., honored Ghyslain Maurais of Union City, Ind.-based Ghyslain Chocolatier with the prestigious Distinguished Visiting Chef award on May 17. As recipient of the award, Maurais presented on-campus cooking demonstrations in addition to a question-and-answer session held exclusively for Sullivan University students.
Designed to connect today's aspiring culinarians with industry leaders, The Distinguished Visiting Chef Series has been recognizing three top chefs annually since its inception in 1988. Maurais is the 51st recipient of the award, joining an impressive roster of chefs that includes Bob Kinkead, Emeril Lagasse, Louis Osteen, Rick Tramonto and Marcel Desaulniers.
An artist can express himself in many ways. For Maurais, it has been through chocolate and pastries. Born in Quebec, Ghyslain found his culinary passion while working in the field to fund his architectural education. Soon after, he changed career paths and entered the Institut du Tourisme et d'Hotelerie du Quebec. Certified in French pastry, chocolate décor, candy making, blown/pulled sugar and bread making, Ghyslain has served as the head chef for the Québec Delegations in New York and London. His career includes experience as both a pastry and executive chef in first-class restaurants and hotels.
While working at the Inn of Versailles in Ohio, he met his wife, Susan. Together they relocated to her hometown of Union City, Ind., to establish Ghyslain Chocolatier. Since 1998, connoisseurs of fine gourmet chocolate have visited Union City to enjoy tours and shopping in the chocolate boutique. In 2003, Ghyslain expended his offering by adding intricate individual French pastries.
In May 2008, Ghyslain expanded with the opening of a new location in Richmond, Ind. The full-service bistro serves lunch and dinner. Patrons can enjoy shopping in the boutique that features pastries, homemade gelato and a wide assortment of Ghyslain's gourmet chocolates. In June 2009, a third location opened in Zionsville, Ind., in Nancy Noel's art gallery, The Sanctuary. It is a superb venue location for weddings, showers and private parties. Ghyslain on Market in Louisville opened in April 2011 and quickly became one of the most popular restaurants in the East Market Street area.
---
Photo: Chef David Dodd (l.), director of the NCHS, presented Chef Ghyslain Maurais with the Distinguished Visiting Chef award at Sullivan University on May 17.