Le Cordon Bleu College of Culinary Arts Offers Certified Master Chef Preparation Program for Faculty and Staff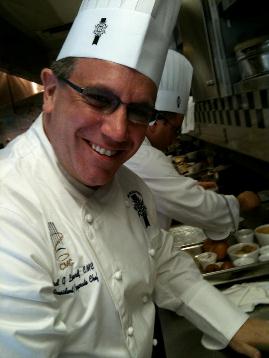 Focused on excellence in culinary education at all levels, Le Cordon Bleu (LCB) College of Culinary Arts is now offering a Certified Master Chef Preparation Program for full-time faculty and academic staff. This new program prepares qualified LCB employees to sit for the Certified Master Chef (CMC) exam—the industry's highest level of achievement. Not only will the program provide an opportunity for staff to expand their skill set, but those who successfully complete the program will be able to gain recognition for their achievements from the American Culinary Federation.
"Le Cordon Bleu is dedicated to offering the highest level of support and development for our staff," said Edward Leonard, CMC, vice president and corporate executive chef of Le Cordon Bleu. "The program will help our staff master their craft and demonstrate their vast industry experience and credentials to our students."
The CMC certification is the most rigorous professional certification granted to U.S. chefs, requiring 130 hours of instruction, menu preparation and timed cooking tests leading up to an eight-day exam. Certified Master Chefs must possess advanced professional culinary skills, kitchen safety and sanitation knowledge and have mastered cooking techniques.
Interested LCB employees must meet all Career Education Corporation and ACF requirements and be nominated by their campus president and executive chef to participate. The program includes assessments tailored to reflect the judging and scoring process of the CMC exam. Participants in the program also receive 12 to 15 months of direct mentoring and support from Leonard. Ferdinand Metz, CMC, LCB executive dean and chairman of the LCB National Advisory Board, along with other Certified Master Chefs, will advise and assist during the training. Leonard and Metz are two of only 72 CMCs nationwide.
Le Cordon Bleu, a member of the Career Education Corporation (NASDAQ:CECO) network of universities, colleges and schools, is one of the largest providers of quality culinary arts education worldwide. For more information about Le Cordon Bleu, visit www.Chefs.edu.