"The Five Taste Senses" Symposium at Robert Morris University a Success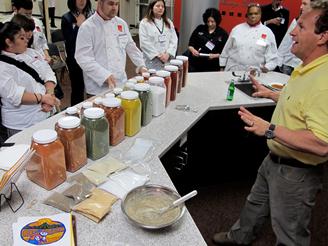 The Institute of Culinary Arts at Robert Morris University held its fifth-annual symposium for culinary students, educators and hospitality professionals on April 13, 2012, at the main RMU campus in downtown Chicago. Titled The Five Taste Senses, the conference focused on the culinary approach to food through the five taste senses of sweet, salty, bitter, sour and umami—a Japanese term meaning "pleasant savory taste."
The symposium began with keynote speaker Chef Cleetus Friedman, owner of City Provisions, Chicago's green, locally focused catering company and recipient of the coveted Sustain Illinois 2009 Award. After opening remarks, the symposium opened with three tracks that included the following sessions:
Chef Jeremy Lycan, Heritage Prairie Farms, "Micro Greens"
Angelica Martinez and Nahim Garcia of Nuevo Mundo, "Surprising Sweet Treats"
Melissa Yan of Joe Snow and Jessica Olorose of Blag Dog Gelato, "Savory Sweets"
Chef Jake Fisher of Sovena, "All about the EVOO"
Jason Ebel of Two Brothers Brewery and Chef Brian Hustan of Publican, "Raising the Bar"
Giles Schnierle, Great American Cheese Collection, "Cheesy Chat"
Dietitian Cari Rivas of Alexian Brothers Advanced Weight Solution, "Healing Power of Food"
Chef Beverly Clark Kim of Aria at the Fairmont, "Asian Food Philosophy"
Chef Craig O'Brien of Quantum Foods, "Marinades, Rubs and Tenderizing Techniques"
Most of the sessions included demonstrations and tastings. Throughout the day, attendees took part in the Culinary Expo and Association Fair with representatives from all areas of the food industry and associations that support networking, and interactive sessions hosted by Polyscience Gourmet Spice Co. Students in the culinary field, chefs and chef instructors and self-proclaimed foodies were invited to attend this annual symposium.
Robert Morris University is a not-for-profit, baccalaureate- and graduate-degree-granting institution accredited by the Higher Learning Commission of the North Central Association of Colleges and Schools. The College serves more than 7,500 students interested in getting an education in business, graphic arts, nursing and healthcare, culinary and computer studies at its main campus in Chicago, as well as at locations in DuPage, Orland Park, Bensenville, Elgin, Springfield, Peoria, Schaumburg, Arlington Heights and Lake County. For more information, visit www.robertmorris.edu.