The Culinary Institute of America at Greystone Names Scott Education Dean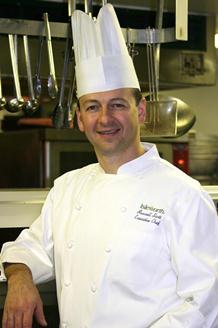 Russell Scott, one of only 66 Certified Master Chefs in the United States, has been named dean of education of The Culinary Institute of America (CIA) at Greystone, effective April 2, 2012. In his new role, Scott will be responsible for the quality and effectiveness of all education programs at the CIA campus in St. Helena, Calif. He will oversee faculty and staff on the education team, direct the development and delivery of the curriculum, and lead the support of students enrolled in the campus' degree and certificate programs.
Scott was previously an associate professor at the college's Hyde Park, N.Y., campus from 1998 to 2005. During that time, he taught several culinary courses and served as executive chef and instructor in the American Bounty Restaurant. "It is very gratifying to rejoin the CIA family and to once again be part of the jet stream of culinary knowledge," he says. "I am indeed privileged to be able to work directly with the finest staff and faculty in hospitality education."
"We are excited to welcome Chef Scott back to the CIA," says college provost and Certified Master Chef Mark Erickson. "His culinary background and experience coupled with his commitment to education will be a tremendous asset to our Greystone campus."
Between his stints at the CIA, Scott was executive chef of the Isleworth Golf and Country Club in Windermere, Fla. Earlier in his career, he was executive chef at the Hotel Nikko in Los Angeles and the Virginia Country Club in Long Beach, Calif. He is also the proprietor of the Gore-Scott Hospitality Partnership, which consists of restaurants and wine shops in Florida, New York, California and Colorado.
The American Culinary Federation honored Russell Scott as the USA's Chef of the Year™ for 2008 and presented him with its Chef Professionalism Award in 2011. Representing the United States in the Global Chefs Challenge in 2009, he took second place among chefs from throughout the Americas.
Scott won numerous medals as a member and captain of teams competing in the quadrennial Internationale Kochkunst Ausstellung (commonly known as the "Culinary Olympics") and Culinary World Cup between 1996 and 2004. He holds a bachelor's degree in alternative medicine from Everglades University in Altamonte Springs, Fla., and an associate degree in culinary arts from the Community College of Allegheny County in Pittsburgh.
With Scott's return to the CIA, the college now has eight Certified Master Chefs on its education team and administration, more than any other organization.