Chartwells Hosts Chefs 2 Schools Junior Chef Competition at MSD Warren Township, Ind., with Special Guest Chef Cary Neff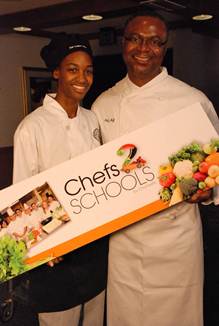 Culinary students at Warren Central High School, Indianapolis, Ind., cooked up a storm at the First Annual Junior Chef competition on March 6. Sponsored by Chartwells School Dining Services, the foodservice provider for MSD Warren Township, the students were honored to be supervised by Chef Cary Neff, vice president, Corporate Culinary Services, Morrison Management Specialists, which provides food, nutrition and dining services to the healthcare and senior-living industries.
The three finalists, Brittany Maxy, Christal Evans and Ariante Echols, winners of an Interview process, were observed by Neff on their preparation, sanitation skills, organization and presentation.
All three finalists are students of Threshold Restaurant, Warren's onsite culinary-arts program located inside the Walker Career Center on the high-school campus. Threshold was named one of the "Hot 100" Secondary Culinary Programs in the United States for the 2010-2011 school year, under the guidance of Warren alumni and current instructor Carol Rice.
The competition was filmed by students from Warren's onsite TV Studio department and broadcast in every cafeteria in the school. Neff and Chartwells Regional Executive Chef Jennifer Brower visited each cooking station, providing helpful hints and ample praise to the students and their student sous chefs as they cooked recipes from his cookbook. The competition gave the students valuable lessons in leadership and following direction, all while demonstrating a positive influence and teamwork. "These are the skills they will carry with them through their life," said Neff. "No one does it alone; there's always a team working with you, giving you the key to success."
The dishes were completed in one hour and the executive-chef tasting panel judged the students on final dish taste, presentation and overall culinary skills, including knife skills, organization, sanitation, teamwork, preparation and timing. The competition was tight, but in the end, Echols was pronounced the proud winner, receiving a personalized apron, professional chef's knives, a cookbook written and signed by Neff and a $500 scholarship to the school of her choice. Echols thanked her mother, who taught her how to cook, Threshold instructor Rice and her youth minister for supporting her, as well as the other Threshold students.
Threshold students prepared samples for distribution to fellow students during all three lunch periods. Neff was very impressed, not only with the students' skills, but with the foodservice operation as a whole. He noted, with its diverse variety of food stations, "This is not the school cafeteria I'm used to seeing, and these are more than just lunch ladies—they are chefs themselves," referring to Chartwells' foodservice employees. "It's real cool to be a chef!" he said.
Chartwells; Chefs 2 Schools leverages First Lady Michelle Obama's concept that chefs have a unique ability to deliver healthy nutrition messages in a fun and appealing way to children by creating healthy dishes that taste good. Their National Nutrition Month campaign focuses on the importance of making informed food choices and developing sound eating and physical activity habits. By combining these two powerful programs, Chartwells hopes to instill positive changes in children's nutritional awareness.
"We are very honored to have the support of Superintendent Dr. Peggy Hinckley of our program, and to have Chef Neff at this special event to show students that there are many simple changes that can be made to support healthy eating efforts," said Victoria Davis, Chartwells' resident district manager. "This competition with Chef Neff, along with our National Nutrition Month and Chefs 2 Schools activities, will help students to become more conscious about what they are eating."
About Chartwells School Dining Services
Chartwells, a division of Charlotte, N.C.-based Compass Group, provides dining services for over 550 public school districts and private schools, comprising over 6,000 separate elementary, middle and high schools nationwide. For more information about Chartwells School Dining Services, visit www.eatlearnlive.com.
---
Photo: Warren Junior Chef Winner Ariante Echols and Chef Cary Neff, vice president, Corporate Culinary Services, Morrison Management Specialists.