Francisco Migoya of the CIA's Apple Pie Bakery Café Is among Top 10 Pastry Chefs in America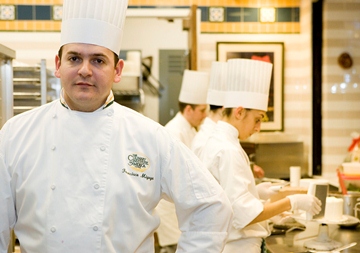 Want to sample the creations of one of the top 10 pastry chefs in America? Just visit the Apple Pie Bakery Café at The Culinary Institute of America (CIA). Francisco Migoya, CIA associate professor in baking and pastry arts and executive chef of the Apple Pie Bakery Café, has been named one of the best pastry chefs in America for 2011 by Dessert Professional magazine.
The Apple Pie Bakery Café is one of five public restaurants on the Hyde Park, N.Y., campus, all of which are also classrooms for students pursuing their bachelor's or associate degrees at the CIA. As such, in addition to being the restaurant's executive chef, Migoya teaches the sophomore-level Café Operations course for baking and pastry-arts majors.
"Having faculty of Francisco Migoya's experience and creativity teaching in a bakeshop is a boon to our students," says CIA President Dr. Tim Ryan, CMC. "I know they value learning directly from one of the best in his field in a hands-on setting. Many of our restaurant guests have also expressed their appreciation for being able to enjoy the café's unique creations daily."
Before joining the CIA faculty in 2005, Migoya was executive pastry chef for renowned chef Thomas Keller at the French Laundry, Bouchon Bakery and Bouchon Bistro, all in Yountville, Calif. He was also head pastry chef at The River Café in Brooklyn, N.Y. Migoya was named CIA faculty member of the year in 2008.
"Since I began working in pastry, I have looked forward to this announcement each year to see which leaders in pastry and desserts made the list. I consider it a great honor and I am humbled to be chosen as one of this year's top 10," Migoya says.
In late March, Migoya was nominated for a 2011 James Beard Foundation Award in the "Cooking from a Professional Point of View" category for his book, The Modern Café (John Wiley & Sons, 2010). He will receive his Top Ten Pastry Chef award at a ceremony in New York City on June 6.