Gerry Fernandez Builds Cultural Intelligence at the Denver Campus of Johnson & Wales University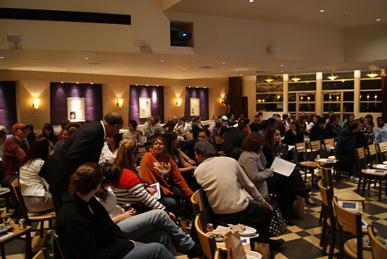 By Michael DeJager, '12, student-body president, JWU
Success in diverse working environments does not come easy. It takes a concerted effort on behalf of all parties to ensure that work flows smoothly. This process takes cultural intelligence, or an awareness and sensitivity to the nuances of cross-cultural communication. When employees have a sense of cultural fluency, communicating and interacting across cultures becomes natural.
The Multicultural Foodservice & Hospitality Alliance (MFHA) is the industry's original, premiere and proven diversity organization educating, advocating and connecting its members with opportunities to grow and succeed by maximizing their cultural intelligence and engaging a diverse workforce. Gerry Fernandez, founder and president of MFHA, is a leader in the hospitality industry and serves as a trustee of Johnson & Wales University. As an alumnus of Johnson & Wales University and an industry veteran, he brings a great deal of experience to the table as a diversity practitioner.
He recently presented to the students of the Denver campus of Johnson & Wales University about the importance of building cultural intelligence for career and business success. "It's all about the money," said Fernandez. "By denying certain customers because of their race, ethnicity, orientation or other characteristics, you are allowing dollars to walk out of the door. Cultural conflict exists no matter your industry or location, and it will only grow as business grows. In the business of hospitality, you cannot manage what you don't understand. Understanding and applying individual cultural intelligence is a crucial component to your success. Since cultural mistakes can be so costly, education and application of cultural intelligence is vital in modern business."
"I feel that Gerry Fernandez provided one of the best presentations on our campus so far concerning diversity. His real, straightforward approach to diversity helped to expand the student perspective," said Monchel Mayes, senior fashion student and attendee of the diversity presentation. As the Denver campus continues to grow and thrive, embracing diversity from all perspectives is reinforced as a crucial component for success.