Driscoll's Launches New Foodservice Web Site with Menu Concepts and Resources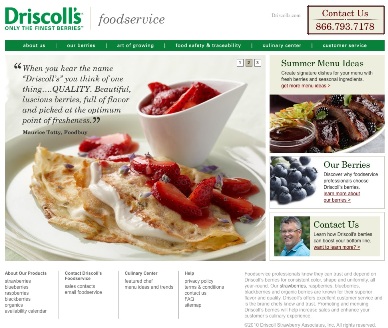 Driscoll Strawberry Associates, Inc. announced the launch of its new foodservice Web site (www.driscolls.com/foodservice) at the Produce Marketing Association Foodservice Conference & Expo in Monterey, Calif., on August 1, 2010.
The resources on the site will help chefs, menu developers and purchasing managers plan healthy menus with fresh berries while enhancing their customers' culinary experiences. Tools such as availability, packaging and distribution information for conventional and organic berries; menu ideas and recipes; and the ability to easily connect with the Driscoll's foodservice sales team are designed to make the site a key point of frequent reference for foodservice operators and distributors.
"We are very excited about this new communication platform to reach our key business-development partners to deliver timely information, product knowledge and menu applications," said Randy Benko, Driscoll's foodservice-sales manager.
Keeping the menu exciting and profitable is made easier with the year-round availability of Driscoll's "berry patch"—strawberries, red raspberries, golden raspberries, blackberries and blueberries. The Culinary Center section of the Web site will offer innovative menu concepts and creative ideas for chefs from chefs. Each quarter, a new chef and his or her berry recipe will be featured on the site, with Chef Glenda Galvan-Garcia of the Granville Gourmet Café in Glendale, Calif., highlighted in the launch.
With "local sourcing" and "farm to table" identified as top trends by today's chefs, Driscoll's provides a visual map pinpointing the Driscoll's farmer-network up and down the Americas and across the United States. In addition, visitors to the site can learn more about Driscoll's dedicated farmer partners and will discover that the passion chefs put into creating exciting dishes for the menu actually starts with the passion these farmers put into every berry that goes to market.
To start adding value to the menu and building a devoted customer base of berry-lovers, visit and bookmark www.driscolls.com/foodservice today.