Delmar Introduces Kitchen Pro: Guide to Produce Identification, Fabrication, and Utilization from The Culinary Institute of America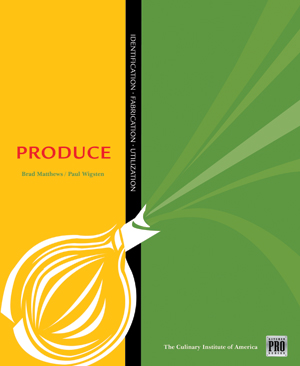 Delmar, part of Cengage Learning and a leading provider of learning solutions for ongoing career development and education, announces the publication of Guide to Produce Identification, Fabrication, and Utilization (ISBN-13: 978-1-4354-0121-1, $58.49), a comprehensive guide to fruit and vegetables. Written by Brad Matthews and Paul Wigsten, this resource is part of the successful Kitchen Pro Series focusing on kitchen preparation skills from The Culinary Institute of America (CIA), the world's premier culinary college, based in Hyde Park, N.Y.
Produce is a definitive manual on selection, purchasing, and fabricating produce for professional chefs, foodservice personnel, culinary students and food enthusiasts. This user-friendly, full-color resource provides practical and detailed information on product identification, seasonality, availability, proper receiving and storage, maturity and ripeness, flavor and nutrition.
"Not since Americans were encouraged to grow victory gardens during World War II has interest in vegetables and fruits – and how and where they're grown – been greater. Recent federal initiatives that promote a more sustainable supply of fresh, safe produce have further raised Americans' consciousness, and the publication of Produce provides answers to important questions for students, professionals and all food lovers," said Mark Erickson, VP and dean of culinary education, The Culinary Institute of America. "Produce is an easy-to-use resource written from top experts at The Culinary Institute of America and we are pleased to announce its addition to the Kitchen Pro Series."
As with companion segments in the Kitchen Pro Series — Meat, Poultry, Fish and Seafood, and Cheese — Produce provides perspective on prevailing consumer and foodservice issues such as seasonality concerns, organics, foraging, heirloom and heritage preservation, and balances social responsibility and sustainability with financial considerations.
Additionally, classic and on-trend recipes for dishes such as asparagus with hollandaise, zucchini pancakes with tzatziki sauce, red snapper with grapefruit salsa, and port-poached pears with Roquefort and walnuts show the application of seasonal produce at its best. All of these recipes are accompanied by exquisite photographs. A detailed section on preparing produce includes step-by-step visual instruction of standard vegetable cuts as well as guidelines for specialized cuts of particular fruits and vegetables.
For culinary instructors, each subject component in the Kitchen Pro Series is accompanied by an Instructor's Manual – a valuable resource that provides review and test questions, a course outline, teaching tips and guidelines, objectives and key terms. The Kitchen Pro Series comprises six components, the final of which will release later this year. For more information, visit www.culinary.delmar.com.
About the Authors
Brad Matthews is director of purchasing and storeroom operations at the CIA, and is responsible for all food purchases and distribution to the 41 kitchens and bakeshops on the Hyde Park campus. A CIA graduate, he joined the staff of his alma mater in 1989 following a successful 15-year career in cooking and management. In 1990, he began a program of working with local farmers to ensure a steady supply of quality fresh local products for the CIA. In 2004, Matthews hired Paul Wigsten, owner and operator of Wigsten Farm in Pleasant Valley, N.Y., as the college's produce buyer and farm liaison. During his tenure at the CIA, Wigsten has worked with local growers throughout New York's Hudson Valley to expand the CIA's longstanding practice of buying locally. Matthews and Wigsten shared the 2006 Glynwood Harvest Good Neighbor Award for their efforts in supporting local agriculture.