Ground Broken: FIU School of Hospitality's New Carnival Student Center Under Way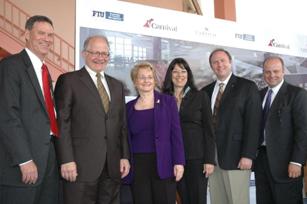 Leaders of two travel and tourism giants came together for the April 5, 2010, groundbreaking of Florida International University (FIU) School of Hospitality's new Carnival Student Center.
FIU President Mark B. Rosenberg, FIU School of Hospitality and Tourism Management Interim Dean Joan Remington and FIU Board of Trustees Chairman Albert E. Dotson, Sr., joined Carnival Cruise Lines President and CEO Gerald R. Cahill, Carnival Foundation Director Linda Coll, Carnival Sr. Vice President and Chief Marketing Officer Jim Berra, guests and dignitaries to break ground on the new center on the grounds of FIU's Biscayne Bay Campus.
The Carnival Student Center represents a major step forward for FIU's acclaimed School of Hospitality and Tourism Management.
A 2,600-square-foot space next to the campus's bayside terrace is being renovated and repurposed to create a formal and informal gathering place for students. With its multipurpose use and resource center, the Carnival Student Center will become a hub where students will meet, hold get-togethers and student organization meetings, work on group projects, and create presentations in the computer center. Student organizations and industry representatives scouting prospective interns and employees will be able to meet in fully equipped conference rooms.
"We are here to celebrate the groundbreaking of the Carnival Student Center, which has been made possible by the generosity and commitment of the Carnival Corporation and Carnival Cruise Lines. The remarkable turnout this morning underscores the importance of this wonderful new student Center which will soon become the heart of our School," Remington told the audience. "Our School's partnership with Carnival, a renowned leader in the hospitality industry with a reputation synonymous with excellence, further highlights our world-class hospitality school's dedication to provide an outstanding education, keeping pace with the ever-changing needs of the industry, and to give our students a global experience and perspective and to prepare them to become the next generation of hospitality and tourism leaders.
The Carnival Student Center was made possible by a gift to the School of Hospitality from Miami-based Carnival Cruise Lines and its parent company Carnival Corporation & plc for the student center and includes an endowment for scholarships. The gift's total impact will be increased once matched by the state. Carnival is also creating a Scholarship Endowment for Hospitality Students.
Cahill says the partnership between his company and FIU's School of Hospitality and Tourism Management is a natural pairing.
"Both Carnival Cruise Lines and FIU School of Hospitality are deeply committed to professionalism in the hospitality industry and seeing that the industry about which we care deeply continues to attract and retain the best and the brightest," Cahill says. "We are pleased to be able to continue our long term relationship with the School and to help launch this new stage in the expansion of this fine School's program."
FIU's School of Hospitality has one of the highest rated programs in the United States with a 100% placement rate for graduates. The school's alumni hold prominent positions throughout the hotel, travel and food service industries, including Carnival Cruise Lines and Carnival Corporation. At least a half dozen FIU Hospitality and Tourism alumni hold high-ranking jobs within Carnival, including Carnival Corporation & plc's Vice President and Chief Audit Executive Richard Brilliant MS '93.
Carnival has been a part of the South Florida community since its beginning. Carnival began operation in 1972 with a single ship, the Mardi Gras, and has since grown into a global cruise company with a portfolio of cruise brands sailing on worldwide itineraries. Carnival Corporation & plc operates 95 ships, including 22 under the Carnival Cruise Lines umbrella.
For more information on FIU's School of Hospitality please visit http://hospitality.fiu.edu.