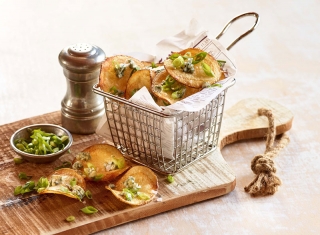 February is officially Potato Lover's Month
The Idaho Potato Commission (IPC) invites chef educators to celebrate Potato Lover's Month during February by visiting idahopotato.com/foodservice. Accessible anytime, the IPC's website is a valuable repository of product information, food planning tools, preparation insights and the IPC's extensive collection of varied and trend-forward potato recipes.
The IPC is featuring three innovative new potato applications selected for Potato Lovers Month. Chips and dip? Burrata Baby Idaho® Potato Chips takes snacking to a new level with a creamy Italian cheese and Idaho® Peewee potato chips. Housemade Idaho® Potato Chips put a southern spin on form, topping them with warmed blue cheese and finely sliced scallions. For a sturdier appetizer/first course, Idaho® Russet chips surround a flavorful beef filling in Idaho® Potato Tot Casserole Wontons. While crisp and rich on their own, consumers can gild their Idaho® Potato wontons with a creamy beef sauce and green onion purée.
Also, on the website, culinary instructors may find helpful size guides, Idaho® potato preparation tips, as well as operational and culinary FAQs.