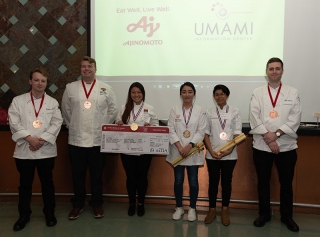 Six Aspiring Chefs Competed at the 2019 United States of Umami Culinary Competition
Winners showcased the power of umami in driving deliciousness at competition sponsored by Ajinomoto Co. and Umami Information Center.
Ajinomoto Co. sponsored the 2019 United States of Umami Culinary Competition on November 8, 2019, in conjunction with the Umami Information Center. Finalists from six culinary schools came together in Charleston, S.C., to prepare their umami-rich recipes side-by-side at The Culinary Institute of Charleston at Trident Technical College where they were judged by a panel of chef experts.
Each competitor was required to incorporate umami in multiple formats to create two competition-worthy dishes, one exclusively plant-based and one that represented their locale in the United States or cultural heritage. Final dishes included an array of ideas from braised pork shanks to beet and barley risotto to blackened bass.
The winning dishes – glazed duck with burnt onion and persimmon jam and roasted spaghetti squash with charred eggplant and miso puree – were developed by Amanda Lee, representing the Institute of Culinary Education in New York City. Lee's glazed duck dish was inspired by her Chinese father and Korean mother. "Duck feels like a special occasion treat to me," explained Lee, "So what better way to celebrate this once-in-a lifetime opportunity?" Lee was awarded a trip to Japan for a culinary adventure throughout the country.
The second-place winner was Suk Son Weisman, from the International Culinary Center, New York City, for her two dishes of Asian pear salad with umami dressing and autumn umami steak with radish puree. The third-place winner was Irene Yllanes, Miami Culinary Institute, Miami, Fla., for her two dishes of snapper and kimchi causa with miso huancaina and king trumpet mushroom anticucho with comte pao de queijo. As prizes, both received high-end, professional chef knives.
Other finalists included Sam Farley, Johnson & Wales University, Providence, RI; Michael Gavin, Nicholls State University, Thibodaux, La., and Nick Petorak, Johnson & Wales University Charlotte, N.C..
The competition was organized and sponsored by Ajinomoto Co. and the Umami Information Center, both experts in umami. The goal of the competition is to foster a correct understanding of umami among students in culinary schools, so that future chefs will be able to properly use umami to transform recipes into healthy, delicious and sustainable dishes.