Educator Shular among ACF's Newest Certified Master Chefs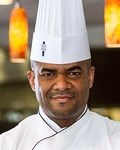 Two chefs have joined the ranks of an elite group of Certified Master Chefs (CMC) following an eight-day exam from Oct. 26 to Nov. 2. The new Certified Master Chefs are:
Jonathan Moosmiller, CMC, executive chef, Southern Hills Country Club, Tulsa, Okla.
Daryl Shular, CMC, director of education/executive chef, Le Cordon Bleu College of Culinary Arts in Atlanta
The current number of Certified Master Chefs in the United States is 68 following the exam. The last exam was held in 2012 at The Culinary Institute of America, Hyde Park, N.Y., and one chef out of seven passed. Candidates for the CMC exam must possess proficiency in a broad range of styles and techniques, and have the ability to perform for eight days under extreme pressure.
"The new Certified Master Chefs have earned what many chefs aspire to their entire career," says Ken Arnone, CMC, chair, ACF CMC/CMPC subcommittee, and owner, KA-CMC LLC, Poughkeepsie, N.Y. "In receiving the CMC certification they have shown their proficiency in a broad range of styles, techniques and cuisines through commitment, determination and hard work. This is one of the greatest accomplishments in a chef's career, and we congratulate them on their achievement."
Ten chefs (three of whom were educators) from across the nation took the latest CMC practical exam held at Le Cordon Bleu College of Culinary Arts in Los Angeles. Candidates were tested on healthy cooking, buffet catering, classical cuisine, freestyle cooking, global cuisine, baking and pastry, Continental and Northern Europe cuisines, and market basket. The chefs had to maintain an average score of 75 out of 100 to pass each segment. Scores are based on kitchen skills, plate presentation and taste.
The Certified Master Chef exam, established in 1981, is considered the highest and most demanding of the American Culinary Federation's (ACF) certification levels. For more information about the candidates or the exam, visit www.acfchefs.org/CMCExam.
---
Photo:Daryl Shular, CMC