Performing Arts and Culinary Arts Combine at CIA's Marriott Pavilion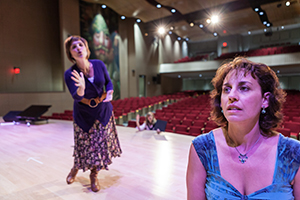 The Culinary Institute of America and Half Moon Theatre, the Hudson Valley's leading year-round professional theatre company, recently announced a new partnership that will bring New York-style theatrical performances to the Hyde Park campus. The CIA's new 800-seat, state-of-the-art Ecolab Auditorium in the Marriott Pavilion makes it possible for visitors to enjoy a meal in either the The Bocuse Restaurant, American Bounty or Ristorante Caterina de' Medici prior to experiencing one of Half Moon Theatre's productions.
The CIA will offer a special pre-show, three-course, prix-fixe menu prior to each performance for $39 per person. As many of the productions will feature food themes, the CIA's chefs will create unique menus for specific performances, giving diners an enhanced overall experience.
Now entering its eighth season, Half Moon Theatre (HMT) is a Hudson Valley-based company of local actors, directors, playwrights, designers and producers who have also worked extensively in New York, Los Angeles and at regional theaters around the country. HMT has produced world-premiere plays, Broadway hits, an original children's opera and an annual 10 Minute Play Festival.
"We are honored to be invited by Dr. Tim Ryan to fill the beautiful Marriott Pavilion with music, theater and top-notch entertainment," says Molly Katz, executive director of HMT. "We will be providing dynamic, accessible programming—suitable for all ages—which we hope will enrich campus life at the CIA as well as enhance a popular attraction for local residents and visitors to the Hudson Valley.
Half Moon Theatre's season at the CIA will kick off with the Inaugural Benefit Gala on Oct. 25, 2014. The gala features Tony Award-winning actress Cady Huffman, who will perform her show And She Can Cook Too!, which debuted at Broadway cabaret hotspot 54 Below in New York City. Cady is best known for originating the role of Ulla in The Producers opposite Matthew Broderick and Nathan Lane. She was also a judge on "Iron Chef America" for 10 years.
Half Moon Theatre will continue the season in The Marriott Pavilion with the following productions:
November 1-16, 2014.The World Goes Roundis a stunning revue of the music of Tony Award-winning songwriters Kander and Ebb. From Cabaret to Chicago, the non-stop hit parade features unforgettable gems including "All That Jazz," "Cabaret" and "New York, New York," seamlessly interwoven into an up-tempo evening of musical theatre
December 5-20, 2014.It's a Wonderful Life, the 1946 radio play adapted by Anthony Palermo. With six actors playing 25 roles, the production features a live sound-effects person encouraging audience participation by kids and adults alike.
January 16-25, 2015. Fully Committed by Becky Mode. This devastatingly funny comedy follows a day in the life of Sam Peliczowski, an out-of-work actor who mans the red-hot reservation line at Manhattan's top restaurant. This hilarious show features one versatile actor who plays 40 wildly diverse characters including the maître d', the chef and a variety of scheming socialites and celebrities who all want a table at the No. 1 restaurant in town.
Tickets for productions are $35 to $45 and are available at www.halfmoontheatre.orgor by calling (800) 838-3006. To make reservations for lunch or dinner at The Culinary Institute of America, visit www.ciarestaurantgroup.comor call (845) 451-6608.
---
Photo:
Denise Summerford, Molly Renfroe Katz and Lisa Sabin rehearse for Half Moon Theatre's upcoming production
The World Goes Round
, a musical revue of Kander and Ebb's greatest hits, at the CIA's Marriott Pavilion in Hyde Park, N.Y. Courtesy of CIA/Phil Mansfield