Three CIA Restaurants Earn ACF Achievement of Excellence Awards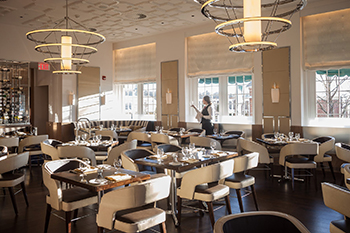 Twenty restaurants across the United States were recipients of 2014 Achievement of Excellence Awards from the American Culinary Federation (ACF) this summer. Three of them are on The Culinary Institute of America's Hyde Park, N.Y. campus: American Bounty Restaurant, The Bocuse Restaurant, and Ristorante Caterina de' Medici. In addition, nine CIA graduates were honored at the organization's awards event held during the ACF national conference in Kansas City, Mo., in July.
"Achievement of Excellence Awards are presented to foodservice establishments that go above and beyond to promote the culinary industry and provide customers with a rewarding experience," said ACF President Thomas J. Macrina, a 1976 CIA alumnus. "The Culinary Institute of America's commitment to providing hands-on learning opportunities for its students through these restaurants is noteworthy."
All four restaurants on the New York campus have now received ACF Achievement of Excellence Awards. The Apple Pie Bakery Café was honored in 2004.
"All of the students, chefs, dining-room instructors and staff strive every day to simultaneously create an unparalleled educational experience and make CIA restaurants world-class dining destinations," said Waldy Malouf, the CIA's senior director of food and beverage operations at the CIA. "The college's restaurants are truly honored and proud to receive the Achievement of Excellence Award from the esteemed American Culinary Federation."
Individual honorees for 2014 include Michael Garbin '76, who received the Chef Professionalism Award; Scott Gilbert '83, winner of the Chef Good Taste Award; Rick Moonen '78, winner of the Celebrated Chef Award; and Gale O'Malley '67, winner of the Joseph Amendola Award, named for a long-time CIA faculty member and administrator. Roger Kelly '76 and Charles Carroll '86 received ACF President's Medallions; and Michael Rigberg '74, Paul Santaularia '85, and Jeffrey Mitchell '93 were named fellows of the ACF's honor society, the American Academy of Chefs.
"To be recognized by receiving this award is the pinnacle of my culinary career," Garbin said. "It is a tribute to my career roots that began with graduating from the CIA and learning from everyone there who shared the passion for this industry."
---
Photo:A student prepares for service in The Bocuse Restaurant at The Culinary Institute of America. Courtesy of CIA/Phil Mansfield