By Adam Weiner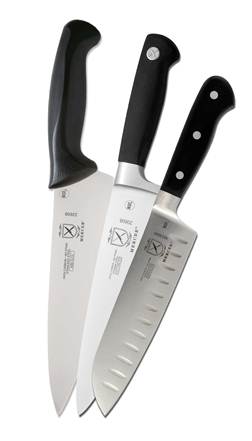 Chef Weiner continues his advice for students on selecting and maintaining knives. This month: the difference between sharpening and honing and the definition of "true."
Last month's article was a handout for your students on how to buy knives. This month I am giving you a handout on how to hone and sharpen knives. Next month will be on using knives, and then the fourth article will cover how to care for knives. So, cut out the below and give it to your students as part two of a four-part series on knives:
Many new cooks confuse sharpening knives with honing knives. They are not the same thing. Honing a knife puts the edge back into "true," while sharpening a knife removes part of the metal and creates a new edge.
If you look under a microscope at a knife, you will see a lot of thin teeth, kind of like one of those cheap plastic combs. Through use and washing, the teeth get pushed out of alignment, out of true. The purpose of the steel is to bring the teeth of the knife back into alignment, back into true. If the end of the teeth becomes dull because of a lot of use or abuse, then aligning it with a steel will not help, and the knife will need to be sharpened instead.