The Dish on Catering
04 March 2012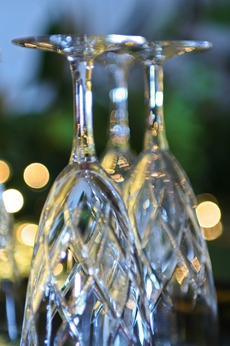 Current and emerging trends as revealed at the 20th-annual Catersource Conference & Tradeshow in Las Vegas last month.
Courtesy of Olson Communications
Catersource is the leading catering-specific tradeshow in the United States that features food, equipment, serving ware and professional services. Caterers can see creative concepts and new, money-saving resources as they network with foodservice experts and industry leaders.
The conference is also marked by exclusive events such as the culinary challenge tabletop competitions, catering-excellence achievements and the coveted CATIE (Catered Arts Through Innovative Excellence) awards.
Here are highlights of the 2012 conference and trade show, Feb. 26-29, at Caesars Palace in Las Vegas.
Designer Dinnerware from Fallen Leaves
Eco-friendly, compostable, recyclable, bamboo, natural, biodegradable, and edible service ware dominated the show floor. Sustainable materials such as fallen leaves and bamboo were used to weave tiny baskets, spoons, paddles, skewers, cups and boats with handmade flourishes like patterned painting, beadwork and curvy serving ware.
Designs were sleek and on trend. Many suppliers also boasted high performance for heavy and sauced items. Disposables are becoming the statement dinnerware that adds appetite appeal and a global conscience without sacrificing the functionality needed for catered events.
All That Glitters
Crystal is hot in 2012, from lighting to linens—crystal made a statement. Almost the counterpoint to eco-friendly designers were stunning, over-the-top fabrics, lighting and glittering displays perfect to be showcased in Las Vegas. Even chocolate truffles covered in dazzling edible glitter in a rainbow of colors were available.
Flights and Small Bites
From appetizers to dessert, small, delicious bites remain a strong component of catering. Further evidence that this is a trend with staying power was the array of permanent dinnerware designed specifically to serve small plates and collections of bite-size indulgences.
Contemporary Service Style
In many ways, food trends are leading trends in service ware. Although chafing dishes still have a place in many catered events, there were plenty of new ideas like warming stones made of granite. Miniature footed domed cake platters were just right to showcase a single cupcake as an elegant dessert.
Miniature homespun items like mason jars served as dramatic light fixtures adding drama with warmth to any setting. As farm to table dinners become more captivating, elegance has been re-interpreted in seating arrangements and fabrics that are no less expensive, but fit the mood of today's catering customer.
Nibble, Sip, Savor Unexpected Flavor Pairings
Wine and cheese, beer and cheese, cupcakes and cordials, what's next? Cookies! Cookies with a variety of flavor profiles were paired with wines, beer, bourbon and cordials—a memorable finale to a meal experience.
Everyday Catering
As consumers are dining at home more and cooking less, the appeal of catering for everyday life has never been more appealing. Supermarkets, restaurants, gourmet shops and even corporate cafeterias are looking for new ways to capture these food-savvy, time-starved consumers by offering do-it-yourself catering for smaller special events.
A recent study by the Culinary Visions™ Panel on everyday catering found that 36% of consumers surveyed had chosen their local supermarket to cater a recent special event at their home. The top occasion to celebrate is birthdays, mentioned by 49% of those surveyed. These consumers are looking for convenience and good value as well as signature service and destination flavor.
Food Democracy
The idea of great food anytime for everyone at a reasonable price is becoming more of a reality as caters and restaurateurs alike take their food to the street. Mobile catering has become a chic new segment of the food industry giving consumers a chance to try new foods that might not otherwise be available to them. Wholesome, quality ingredients are used in a way that is delicious for the consumer and cost effective for the operator.
Interesting Sightings
Rolls of tear-off cloth cotton and linen napkins and placemats were elegant and hassle free.
Edible service serving spoons in different flavors—interesting, but a little too high in fiber.
Finishing sauces—traditional sauces used to finish a dish with familiar and appealing branded flavor.
Dessert condiments—brownies served with mini bottles of Tabasco® sauce, also known as "hot chocolate."
Implications
Everyday catering can become the new profit center for a wide range of foodservice and retail operations ready to meet the needs of today's time-starved consumers when they entertain at home.
Unconventional venues like pop-up retail operations are creating new opportunities for caterers who are the original mobile food professionals.
Hassle-free, convenience-added ingredients are helping foodservice professionals in other segments of the industry deliver exquisite events and memorable food without scratch preparation.
---
Olson Communications, since 1988, has specialized in offering personalized, uniquely crafted marketing communication strategies for food business clients based in the United States and abroad. The agency's business strategy of remaining small while exceeding the range and depth of service typical of larger food-marketing agencies has earned Olson Communications international recognition. For more information, visit www.olsoncom.com.
Photo: © Christian Harberts | Dreamstime.com, http://www.dreamstime.com/crystal-champagne-glasses-imagefree3365650