An Ever-Bigger Taste of Latin America
31 October 2011
This year's Latin Flavors, American Kitchens Conference emphasized cuisines from Argentina to Guatemala and identified hot trends: handheld foods, smoke, bar foods and Cocktails.
The kitchens of The Culinary Institute of America (CIA), San Antonio recently hosted the most prominent collection of Latin-cuisine experts from throughout the Americas. The chefs assembled in Texas for the college's fourth-annual Latin Flavors, American Kitchens conference, October 5-7. Presenting chefs included Rick Bayless of Frontera Grill, Topolobampo and Xoco in Chicago; Roberto Santibanez of Fonda in Brooklyn; Humberto Dominguez of Restaurant Kakao in Guatemala; and the CIA's Latin-cuisines faculty: Alain Dubernard (Mexico), Almir Da Fonseca (Brazil), Iliana de la Vega (Mexico), Elizabeth Johnson-Kossick (USA) and Sergio Remolina (Mexico).
Educating the foodservice and hospitality industry about the unique culinary traditions and flavors of Latin America, the Latin Flavors, American Kitchens conference was attended by more than 170 foodservice-industry leaders. The annual conference helps chefs and restaurateurs better understand how to create foods that feature authentic Latin flavors and cooking methods in various foodservice environments. Participating volume operators included On The Border Restaurants, Applebee's, Carlson Restaurant Group, Yum! Brands, Dunkin' Brands, The Delaware North Company and Sodexo.
Hot trends in Latin cuisines highlighted during this year's Latin Flavors, American Kitchens included explorations of the indigenous flavors of Argentina, Brazil, Ecuador and Guatemala, and the growing interest in handheld foods like tortas, postres, tacos, tostadas and burritos. In addition, significant time was spent learning about the use of smoke and the grilling traditions in Latin American countries, as well as new concepts for featuring Latin flavors in cocktails and bar foods.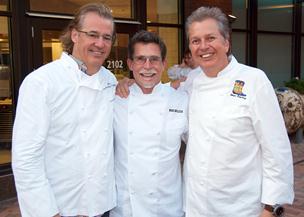 (l. to r.) Chefs Robert Del Grande of Restaurant RDG +Bar Annie, Houston; Bayless; and Dean Fearing of Fearing's at The Ritz-Carlton, Dallas, were on hand at The Culinary Institute of America's 2011 Latin Flavors, American Kitchens Conference.
It was noted that there are many business opportunities for new products and menu items that appeal to a nation whose palate is constantly seeking new flavors, once chefs in the United States become more familiar with authentic Latin ingredients and cooking methods.
Recognizing this need, the CIA introduced its new Latin Cuisines Certificate Program in San Antonio. Designed to leverage the resources of the CIA's Center for Foods of the Americas, the 30-week program launching in January 2012 is the first of its kind in the United States to offer a comprehensive study of Latin American cuisine and culture.
"I've dreamt for years that we would be able to understand the cuisines of Latin America the same way we understand the cuisines of Europe—that someone would distill the cuisines for us so that we can communicate them to others," Bayless said. "The CIA's Latin Cuisines Certificate Program will do that. And it is going to launch us into the future in terms of Latin cuisine here in the United States and beyond."
Through these efforts, the not-for-profit Culinary Institute of America is dedicated to honoring its rich culinary heritage while also embracing the flavors of world culture and innovation.
To learn more about the CIA's Latin Flavors, American Kitchens conference, visit www.ciaprochef.com. To learn more about the CIA's new Latin Cuisines Certificate Program, visit www.ciachef.edu/lccp.
---
Caption: Peruvian yuca empanadas were created by Chef Pedro Miguel Schiaffino at the 2011 Latin Flavors, American Kitchens Conference in San Antonio, Texas, in October. Courtesy of CIA/Scott Miller.