Multiplying Mediterranean
01 October 2011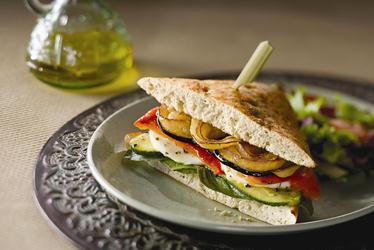 Interest in Mediterranean-inspired fare continues to grow as more diners demand simple preparations, use of fresh ingredients and cooking methods that instill flavor without adding unhealthy fats.
Mediterranean items are becoming more prevalent on restaurant menus across numerous segments, as operators are able to position these items by taking advantage of growing consumer interest in ethnic cuisines, better-for-you fare and vegetarian foods.
"Mediterranean cuisine certainly seems poised for continued growth," says Mary Chapman, director of Chicago-based trend-tracker Technomic. "The increase in menu incidence we have tracked shows that these items are not just being added to Mediterranean concepts, but to the menus of national chains within virtually all segments and categories. We expect this to continue as awareness of the cuisine increases and as the trends feeding the growth continue to develop."
To help restaurant operators and suppliers understand trends and opportunities with regard to Mediterranean cuisine, Technomic recently developed the Mediterranean Market Intelligence Report. Findings include:
Mediterranean food is becoming increasingly popular, with six in 10 consumers surveyed indicating they would likely order a menu item featuring flavors and ingredients typically associated with Mediterranean cuisine.
Sales at Mediterranean chains—including Greek, Spanish and Middle Eastern specialists—grew to $362 million in 2010, a 1.7% increase over 2009. In the area of unit growth, leading Mediterranean chains closed out 2010 with a total of 430 units, up from 423 the prior year. Mediterranean restaurants on a chain level are not widely represented. Coupled with consumers' willingness to order Mediterranean food, this indicates an opportunity for emerging concepts.
Pita sandwiches and Greek entrée salads have seen healthy increases in menu incidence, and operators are also using more falafel, hummus, chickpeas and Greek yogurt, indicating a potential trend.
Mediterranean cuisine heavily incorporates fish, herbs, vegetables and olive oil—all ingredients that a majority of consumers consider to be healthy. Consumers seeking better-for-you fare also appreciate the cuisine's simple preparations, use of fresh ingredients and cooking methods that instill flavor without adding fats.
---
Photo caption: These Onion Mediterranean Vegetarian Sandwiches feature sliced garlicky yellow onion, eggplant, mozzarella, roasted red bell pepper, pesto and fresh basil between focaccia. Courtesy of the Idaho-Eastern Oregon Onion Committee.