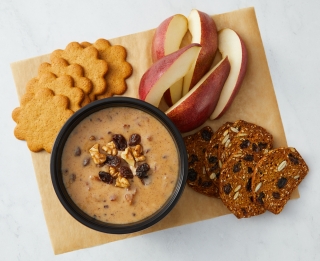 Creative Cheese Tips
28 February 2022
Two professional chefs offer their take on innovatively incorporating cheese in dishes from desserts to Indian lasagnas.
By Lisa Parrish, GMC Editor
Feedback & comments: This email address is being protected from spambots. You need JavaScript enabled to view it.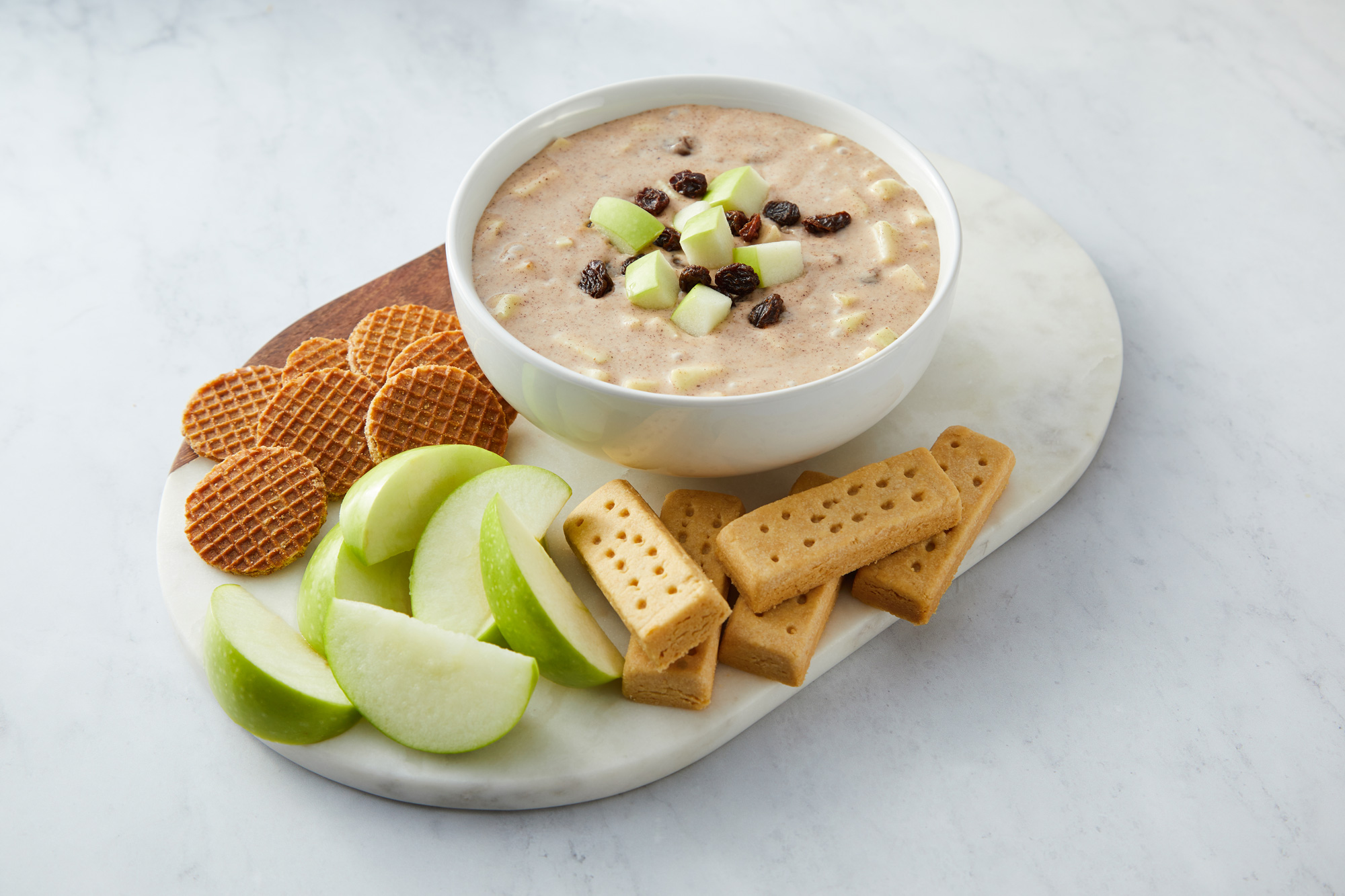 Cheese is a creamy, stinky, silky, hard, gooey comfort food most people eat often. Cheese is a staple ingredient in dishes across all dayparts and menu categories. Why? Because people enjoy cheese and their taste is only growing. The US per capita consumption of cheese has increased by over five pounds over the past 10 years with the average consumer eating 40.2 pounds in 2020. That's a lot of cheese, even before the pandemic.
If people are eating pounds of cheese – and they are – let's look at inventive and delicious ways to layer cheese into various dayparts, menu items and creative customizations. Two chefs weigh in with innovative ideas on cooking with cheese.
Chef Chris Olson, CEC

Executive Chef with Land O'Lakes Foodservice
A Wisconsin native with more than 20 years of foodservice experience.
Cheese for dessert
When I was a kid, my Gramma Klein from Germany put a slice of cheddar cheese on apple pie. Best dessert ever. I can still taste it. Dessert is a great time to consider decadent flavors by flexing culinary muscles and pairing savory cheese flavors with sweet applications.
Consider brie and pears. Try bleu cheese or a harder Romano cheese paired with apples, or maybe a tangerine. You can take it a step further by creating a sweet and savory queso fresco pound cake that would pair quite nicely with coffee. I might also do a goat cheese pudding topped with berries and chocolate. Or, yes, like my grandmother, cheddar on top of apple pie. A quality cheese can make your dessert recipes pop.
Here is a great exercise for your students to help break out of the norms. Give them a variety of cheeses and an array of fruits and other sweet flavors and ask them to experiment and create new pairings.
Cheese as specialty diet-friendly
I know chefs and customers may not connect cheese with specialty diet-friendly dishes, but cheese can often be the answer for such diets.
Consider vegetarian dishes: Cheese can add a fatty, filling flavor to a plant-forward dish. Think pear salads with brie, a great dish with sweet and savory flavors. Or keep cheese in mind for dinners with celiac disease seeking gluten-free dishes. I love adding Roquefort to a good piece of roast beef instead of using a flour-based sauce.
It's all about finding the right profile to heighten your dish without adding allergens or gluten.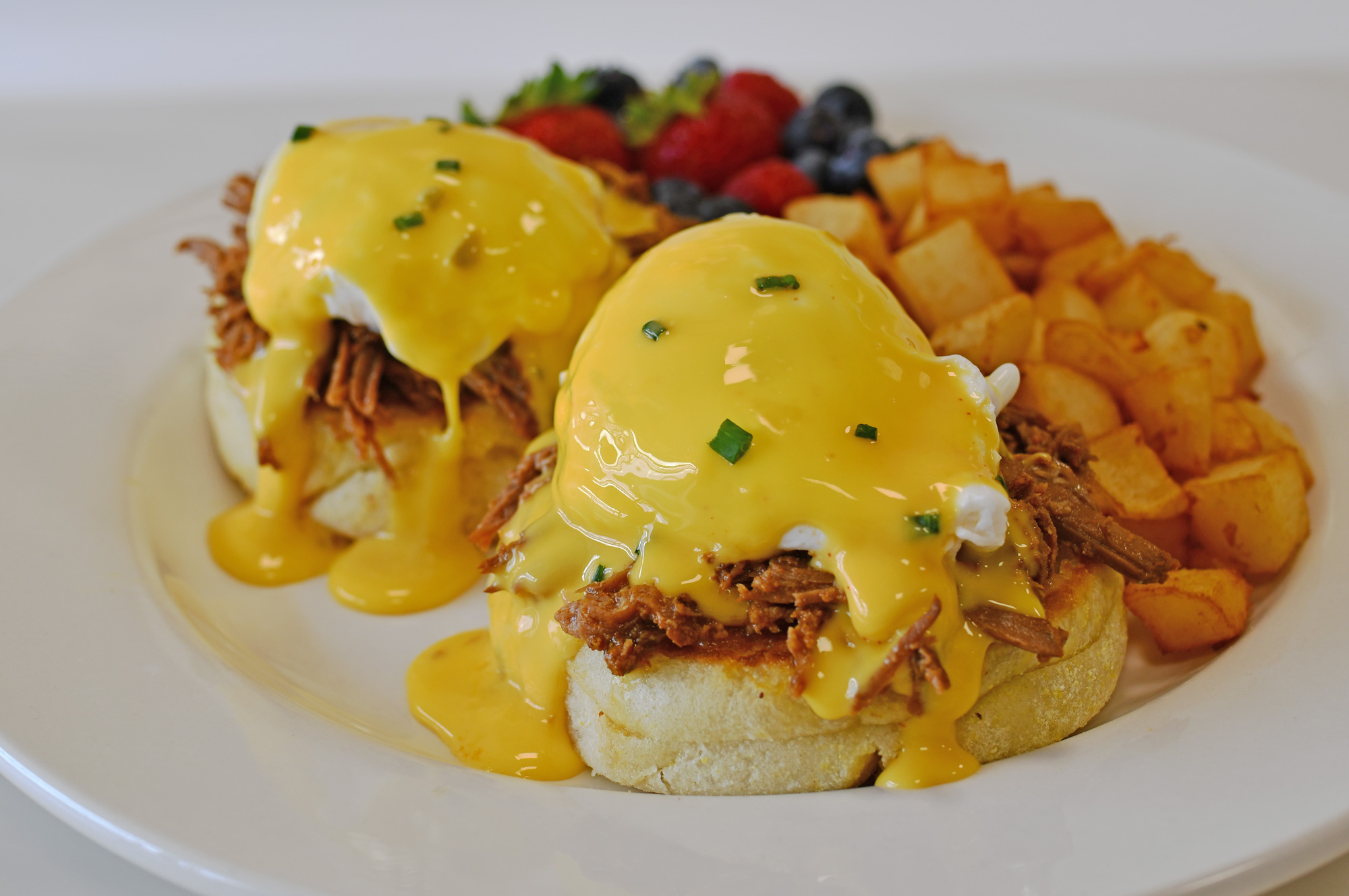 Cheese for breakfast
When it comes to breakfast, a little touch of dairy – especially cheese – can turn a traditional breakfast dish into an unforgettable experience. Pairing eggs with cheese can create a dish for dinners they either can't cook at home or never thought possible.
Think eggs Benedict with a high-end cheese ingredient, such as a premium queso. This would add a creamy, surprising touch and then finish the dish with a spicy topping. Look for ways to make omelets more flavorful. A ham and cheese omelet is fairly plain, but with a Mornay sauce you add a classic French touch to the dish. A cheese sauce adds salt, fat, and holds well through delivery.
Cheese as a base for multiple dishes
I like to use a high-performing cheese sauce, which is a sauce that performs well under aggressive heating or cooling, doesn't curdle or break, and handles troublesome ingredients from acids to fats. This type of cheese sauce can serve as a great base that holds throughout the day and is especially appealing during busy times.
Additionally, a high-performing cheese sauce can make a popular dish more creative based on your culinary twists. Think about dishes like nachos or adding a cheese topping to a chili dish.
Here's a great class exercise to help build confidence: Give all your students the same base sauce – like Land O'Lakes Extra Melt®. It's their canvass to build out a delicious sauce without the worry or hassle of building the canvass itself. Let them experiment and try variations. Then, once they learn great taste techniques, you can focus on helping them learn to build sauces from scratch. It's a reverse way to learn, but one in which you place creativity first.
Chef Manish Tyagi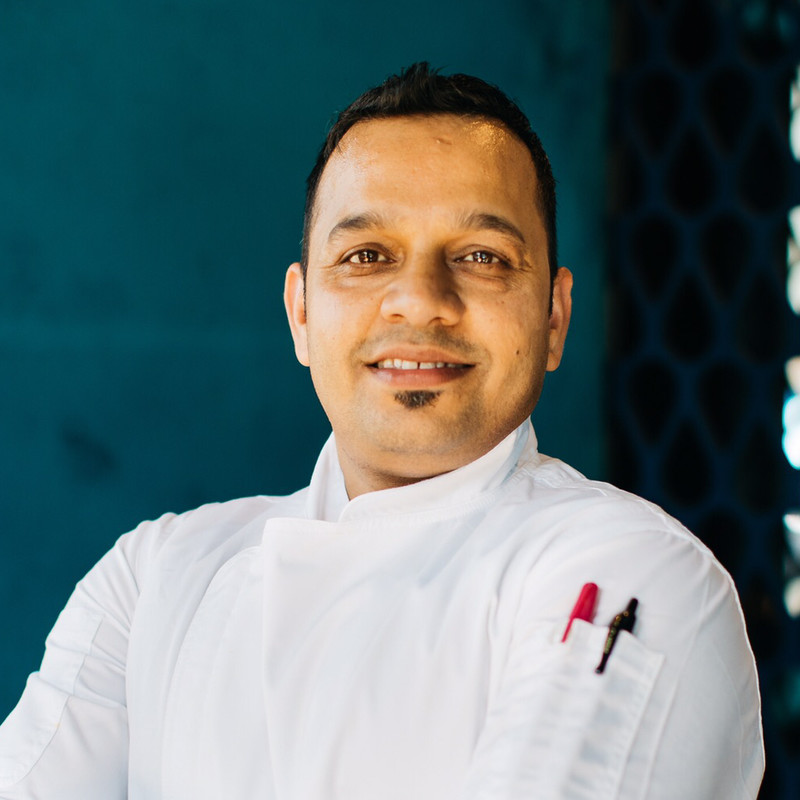 Chef and COO of Aurum restaurant in Los Altos, Calif.
Chef Tyagi began his career in India's Trident Hotel Agra and Rambagh Palace in Jaipur where he earned a spot on Nat Geo's "10 Great Cooking Classes Around the World." Here in the US, he was a winner on the Food Network's "Beat Bobby Flay."
Chef Tyagi cooks nostalgic Indian recipes. He keeps the classic soul of the dish intact but presents it in an artistic, modern way. He said, "It's a misconception that Indians don't have cheese. We do have cheese. We just use it in different ways." He uses California dairy cheese to help achieve his culinary inspiration.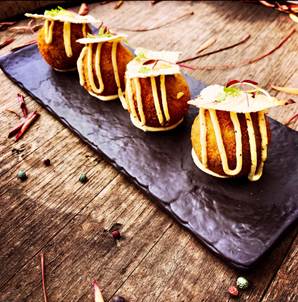 Comfy Arancini
The comfy in Comfy Arancini is a nod to Chef Tyagi's Indian childhood roots as the dish uses khichdi made with moong lentils and rice. Arancini may be considered Italian, but Chef Tyagi uses khichdi instead of risotto and stuffs it with bocconcini mozzarella from California. The cheese-filled ball is dipped in chickpea flour and breadcrumbs, deep fried, finished with a yogurt and pickle sauce and plated with a papadum.
"It's a flavor bomb in every bite," he said. "Guests experience the crunchiness from the arancini, the tartness and sourness from the sauce and the gooeyness and cheesiness from the mozzarella."
I'm Not Pasta – Palak Panner Lasagna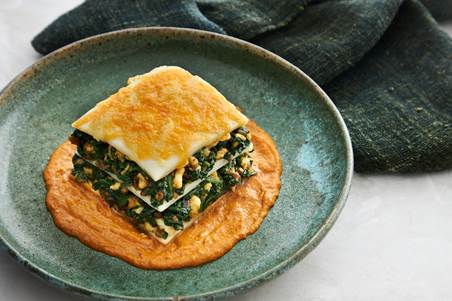 Chef Tyagi changes traditional lasagna and switches out the pasta sheets for sliced sheets of Indian paneer cheese. He creates a lasagna stack by layering paneer cheese and a filling consisting of California mozzarella, spinach, garlic and fenugreek leaves. The stack is then heated until melted and golden brown. The dish is plated in a heated spicy-creamy tomato sauce and topped with chili threads and basil oil.
When diners see the I'm Not Pasta dish come to the table, they have a different understanding of saag paneer. "They see all these different colors and they are like, 'wow.'"
Click here to watch a Real California Milk Real Makers featuring Chef Manish Tyagi.