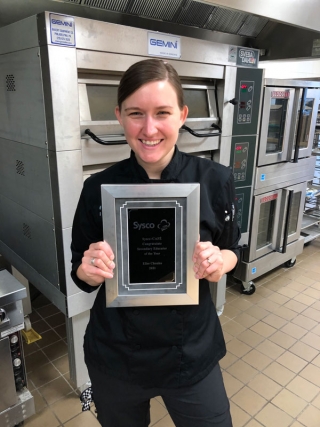 Culture in Food
31 January 2022
MSG's role in post-WWII xenophobia and dismantling misinformation.
By Elise Chonko
Feedback & comments: This email address is being protected from spambots. You need JavaScript enabled to view it.
(Please see Editor's Note following this article.)
The culinary arts classroom is an excellent context for understanding cultural differences and bridging an awareness gap. My first lesson about the cultural division in American food was focused on three letters: MSG (monosodium glutamate). This controversial ingredient is sometimes associated with Chinese food in the United States. With the upcoming Chinese New Year, I hope this lesson inspires you to discuss these topics with your students.
While MSG is something older generations heard a lot about growing up, I have found many of my students are not aware of it or understand the stigma that remains.
I begin the lesson with some background information about MSG and why some people, inaccurately, think it's bad. Students learn that American condemnation of MSG started with a mere opinion article written by a Chinese-American doctor who speculated that his headaches might be caused by the MSG commonly used in Asian dishes. However, more than 50 years later, not a single study has ever backed these claims. It was pure conjecture, but in post-WWII America, when white people were very leery of their Asian American brethren and xenophobia was rampant, this doctor's unproven conjecture exploded into widespread discrimination of Asian restaurants. People were afraid to eat at Chinese restaurants, even calling Asian food "dirty" or "unclean." This has generated such a powerful stigma surrounding MSG that many Asian restaurants today still post "No MSG" on their windows and menus.
I have students read two articles, a CNN article and a Washington Post article, and watch an Earth Lab video describing what MSG is: a harmless vehicle for one of our favorite flavors--umami. In a shocking twist, students learn what foods they've already eaten that contain MSG: tomatoes, parmesan, even human breast milk! Students having eaten many of these common foods both show the harmless nature of MSG and reveal the discriminatory nature of the anti-Chinese stigma it once caused.
At this point, I open the floor to discussion. Knowing that topics of this nature can be incredibly tricky to manage without someone inadvertently becoming offended or offending someone else, I want to be prepared. I employ two tactics that help facilitate smooth and safe conversations about race. Number one: I invite a school counselor. I don't have to tell you how great our counselors are at diffusing situations and setting up safe norms. They can also help start a dialogue if students are feeling nervous about challenging topics such as this one.
My second tactic is to have students type their thoughts for the discussion in Desmos, the online application mainly used for math. In addition to equations, Desmos has the functionality for students to simply type responses in a text box, which teachers of any subject can employ for discussion. This allows all students to reflect individually and empowers the teacher to see all their thoughts at the same time. This is a great way to have students talk about tricky subjects without tensions rising. The teacher then chooses whether to display or read the answers. If the teacher selects to display the answers, there is an additional option to anonymize the responses for all students with just a click, which can further diffuse possible tensions. I prefer reading responses instead of projecting them, which helps make sure the conversation stays in control and gives voice to the students who typically don't speak during class conversations.
Students understand the importance of cultural and historical analysis if the lesson can be personalized. To connect this conversation to our local community, I have partnered with a charity called Bakers Against Racism. The group hosts bake sales to raise money for local organizations that promote diversity and inclusion. In the next part of the lesson, students watch a pre-recorded interview with me; Caroline Leone, our school counselor; and Kaitlan Lawrence, a leader from Richmond's Bakers Against Racism chapter. In the interview, students learn about how they can use their skillsets (not just baking) to help their local communities. For example, the leader we spoke to isn't a professional baker, but she uses her organizational skills to help keep the group on track.
Following this video, we discuss how students can use their talents to fight for something they believe in. How can you use food as a vehicle for change? This final question is capped with an assignment: students are tasked with designing an Asian and American dessert fusion that could be sold at a Bakers Against Racism bake sale as a symbolic gesture to heal from the MSG stigma and Asian American xenophobia in our society. Students always come up with really creative ideas: green tea cookies, cheesecake-filled mochi, even fortune cookies with messages of love and acceptance.
I hope my lesson inspires you to have discussions in your classroom about cultural divides within American cuisine. I have found my juniors and seniors appreciate talking about these real-world issues that are ever-present in our society and the industry they will soon join.
Extra Credit: If you have a class library, here are some great books to add to it and discuss with your students:
"Japanese Patisserie: Exploring the beautiful and delicious fusion" by James Campbell
"Momofuku" by David Chang and Peter Meehan
"Eat a Peach" by David Chang and Gabe Ulla
This is the second article in a two-part series on teaching about cultural differences in a culinary classroom. Click here to read Elise's article, "How sugar became salty in the South and building a unit for Black history month."
Click here the read a Gold Medal Classroom story that previously discussed MSG and umami, "Blowing Palate Doors Off Hinges, Breaking Stigmas Along the Way: Instructors teaching umami from a scientific view can alter students' flavor awareness forever."
---
Editor's Note: Culinary educators instruct students in food production, safety and costing skills as well as the broader context of food history, culture and systems. Food history and culture are more than the origin of recipes and formulas; It's the rich background of economic, environmental, sociological and political factors that have shaped—and continue to shape—our food choices and systems. Thanks to recent scholarship, culinary educators are more thoroughly engaging in the origins, contexts and parameters of ingredients and food preparation techniques. CAFÉ is proud to encourage this expanded range of new information and skills.
CAFÉ has always been dedicated to supporting culinary educators. In our publications, workshops and conferences, we provide a respectful and supportive space for educators to engage and reflect on topics and their application to culinary classrooms across diverse programs. Editors of the Gold Medal Classroom or any CAFÉ publication hope the readers benefit from the expansive coverage of all topics related to food. Additionally, we are committed to respectful and informative material written by staff members or guest writers and will present it for discussion and interaction just as any educator would hope to do in their classroom.
As always, we welcome comments and feedback on articles. You can contact us by emailing This email address is being protected from spambots. You need JavaScript enabled to view it..
---
Elise Chonko is a baking and pastry arts instructor at the Chesterfield Career and Technical Center in Midlothian, Va. She is also the national 2021 Sysco Corporation Secondary Educator of the Year award recipient.