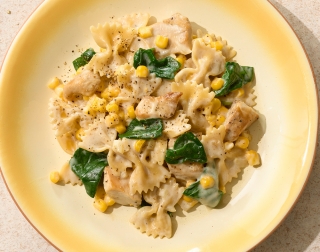 Selecting the Right Nontraditional Pasta for Healthy Dishes
02 November 2020
Swapping out semolina flour pasta for chickpea and red lentil options requires knowledge about differing mouthfeel, flavor and application temperature.
By Lisa Parrish, GMC Editor
Health and wellness are driving factors in foods consumers chose to eat. Especially in today's pandemic crisis, a remarkable focus has been placed on eating healthy to stay healthy. Plant-forward dishes have solid roots in this health trend and culinary programs are mirroring this attention as they turn toward teaching healthy applications.
Nontraditional plant-based pastas are an easy entrée into the health and wellness trend. It is a choice filled with high protein and fiber, fewer carbohydrates and most nontraditional pastas are gluten free. Many chefs are familiar with preparing traditional pastas. But what are the differences when one chooses a pasta made from chickpeas, red lentils, rice or corn?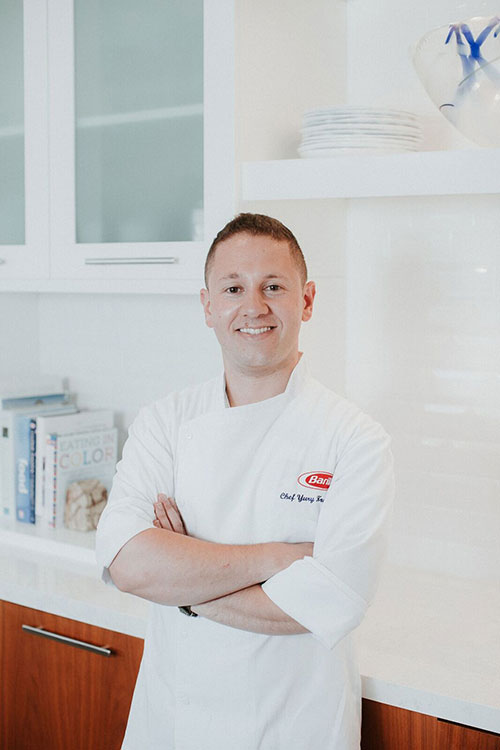 Barilla America Foodservice Executive Chef Yury Krasilovsky answered the question. First, he talks about his definition of nontraditional pasta. He views legume pasta, made with either chickpeas or red lentils; Protein Plus; and Gluten Free, made with rice or flour, as pastas filling this category.
Here are characteristics of Krasilovsky's three nontraditional pastas:
Legume pasta (red lentil and chickpea)
These pastas are made from a single ingredient - chickpea or lentil flour. And, according to Krasilovsky, "They do taste like what they are made of." He suggested the chickpea pasta would pair well in Mediterranean applications, or with roasted vegetables or sweeter ingredients. He said that legume pasta has a bite and more distinct mouthfeel and texture than traditional pasta. It is in high protein, is non-GMO, both gluten- and wheat-free as well as vegan. "It's good for people avoiding those ingredients or looking to go plant-forward." He suggested cooking legume pasta similarly to traditional pasta, but with a slightly gentler boil. Chefs can double-cook with no issues. "Both are best for hot applications, but not pasta salads," he said. "The proteins get hard when cold, which you want to avoid."
Chefs should consider adding legume pastas for venues where they want to lean into plant-based protein, either with small amounts of meat, vegetarian or totally vegan. "This is a new product, but we've seen the most interest in healthcare, colleges and universities and business and industry customers."
Protein Plus
This is a blend of grains and legumes, including some durum semolina flour. "It is so similar to traditional semolina visually and taste-wise, even I can't tell the difference sometimes," Krasilovsky said. Protein Plus is durable and keeps its al dente bite through holding and reheating. Nutritionally speaking, Protein Plus contains natural protein from peas and other grains, which also boosts its fiber content. This versatile pasta can easily be swapped for applications calling for traditional pasta.
Krasilovsky said, "Protein Plus is great for those environments where you want to boost the nutritional benefit, but not draw a lot of attention to it. On a college campus, we see a lot of Protein Plus in athlete dining for instance. K-12 is also a natural, where you can deliver a better nutritional package in a favorite kids' food. Senior living and healthcare in general are good venues, too."
Gluten-free
Gluten-free pasta is made of corn and rice and tastes a bit like it, according to Krasilovsky. It has a golden color due to the yellow corn used to make the pasta. Like many gluten-free pastas, it does not hold up well to cold applications because the proteins turn hard when chilled. "Typically, you cook gluten-free ala minute, which is best," he said. "It has a mild, neutral flavor very much like traditional pasta and plays well with all kinds of pairings." Most people who chose gluten-free pastas are concerned about gluten avoidance.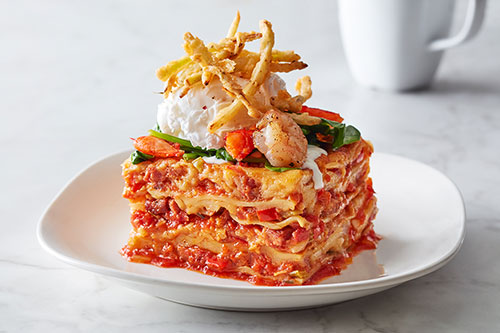 The next step in understanding how to correctly swap nontraditional pastas for traditional is selecting the perfect sauce. Texture and ingredient pairing are keys to picking the perfect sauce. "Nontraditional pastas tend to be thirsty, meaning they absorb a lot of sauce," Krasilovsky explained. "As a result, you want to have a wetter or looser sauce than you might typically use. Legume pastas benefit from sauces and inclusions with texture, so veggies with some bite, a breadcrumb topping, pesto or nuts are great choices." From a shape perspective, select pastas that have holes, ridges or cups in the shape for the pasta to nicely hold onto sauces and ingredients.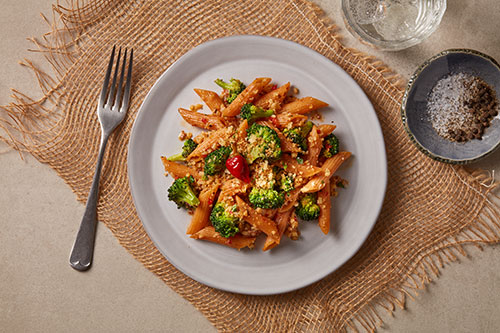 Chef Krasilovsky's personal favorite nontraditional pasta application is red lentil penne with cauliflower, broccoli and Italian umami butter.
"I love this dish as an illustration of a successful pairing with red lentil pasta. The broccoli and cauliflower flavors match, but more important their bite and texture are spot on. And the tiny bit of animal protein from the anchovies adds a ton of flavor. Overall, the dish is very plant-forward and is all about the veggies. It looks great on the plate, too," he said.
Photos courtesy of Barilla America.