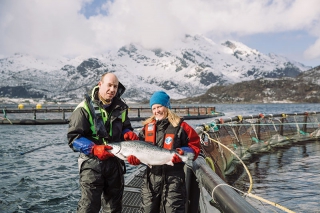 Chefs Face Conundrum Determining Seafood's Sustainability and Origin
27 February 2019
Consumption of imported seafood is on the rise. Working with distributors allows chefs to source sustainable seafood when placing orders.
By Lisa Parrish, GMC Editor
Seafood consumption is catching on around the United States. Consumers ate 14.6 pounds per person of seafood in 1997, but by 2017 that figure jumped to 16 pounds per person. Diners are choosing to eat healthy seafood as their protein in all dayparts. However, Millennial and Gen Z consumers not only care about healthy food but also about food farmed sustainably. And seafood finds itself as a very scrutinized protein for issues swirling around sourcing and sustainability.
Two questions consistently asked about seafood are: "Where does the seafood come from?" and "Was the seafood sustainably caught?" This is where a chef's knowledge, beyond the preparation of seafood, becomes integral.
Seafood Origin
Millennial and Gen Z consumers may be surprised to find they are most likely consuming imported seafood. As US consumption has grown, the domestic seafood supply has not been able to keep up with the demand. (This includes both domestic wild-caught and aqua farmed seafood.) The National Oceanic and Atmospheric Administration estimates the US imports more than 80 percent of the seafood consumed, and it approximates about half of this imported seafood is from aquaculture. Seafood farming is becoming a big business around the globe.
Another aspect of imported seafood is quality, which may be different due to varying inspection standards in other countries. Additionally, some countries' aquafarms raise their fish on fortified feed to grow them more quickly and use a high rate of antibiotics, which both affect taste and quality.
Chefs have two resources to help them navigate and understand seafood's origins. First, cooks can check the two labels on frozen seafood, which indicate where the food was caught or farmed and where it was packaged. Or, when looking at the label on fresh seafood, chefs can verify its country of origin. The Monterey Bay Aquarium's Seafood Watch program is another resource in a chef's toque. Available as an app or web site, this reputable source allows cooks to search a type of seafood and discover if it is imported or domestically sourced as well as if it was farmed or wild caught.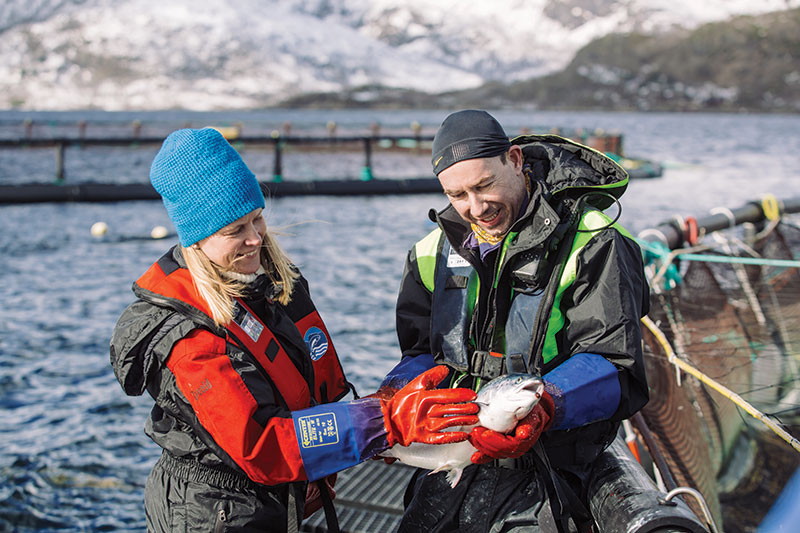 Seafood Sustainability
Looking at a seafood dish, typically consumers will not be able to discern if the seafood was farmed or wild caught and that's where a chef's food cycle knowledge comes in handy. Let's start with the difference between the two types of harvesting.
Wild-caught fish are harvested from a natural habitat (ocean, lake, river) where farm-raised seafood is caught in a tank or pen. Wild-caught fish tend to be lower in saturated fat due to their natural diet while the farm-raised varieties tend to have higher omega-3 fatty acid due to their fortified food. Issues of high mercury levels can be found in both types of fish with larger, predatory fish usually containing the most mercury.
Currently, about half of the world's seafood comes from aquaculture, and this percentage is projected to increase, according to the National Oceanic and Atmospheric Administration's Fish Watch. Many countries are developing regulatory systems for aquaculture and investing heavily in sustainable aquaculture research and development.
Let's now look at a country that has a strong aquafarming system, practices excellent sustainability techniques and possesses a longstanding cultural dedication to the seafood industry.
Norwegian Seafood Council: An Example of Imported Seafood Sustainably Harvested
In 2018 Norway exported 181 million pounds of seafood to the US, making the States the Nordic country's fourth largest market. Salmon, steelhead trout - or fjord trout as Norwegians call it, cod, mackerel, haddock, king crab and halibut are all exported to the US. Norway's seafood harvesting is nearly evenly split by volume between wild caught and farm raised. However, over the last 10 years, aquaculture has grown by 300 percent in value.
Norway's aquafarming industry is seen by industry experts as one of the most sustainable in the world, according to Egil Ove Sundheim, US director, Norwegian Seafood Council. He said, "We work closely with Norwegian authorities, research institutions and environmental organizations to ensure the industry remains stable, sustainable and safe. We implement numerous research methods to guarantee the various species found in Norway are healthy, sustainably produced and not overfished."
Sundheim described a typical salmon aquaculture system: "Norwegian salmon are raised and farmed in unique, deep pens in the cold, clear waters of the Atlantic Ocean along the coast of Norway. Each of these pens has a circumference of 200 meters (656 feet) and a depth of 50 meters (164 feet), meaning more than 97 percent of the pen is water and only 2.5 percent fish. While salmon production continues to increase, Norway only uses .5 percent of the sea area available for aquaculture farms, making habitat damage very minimal."
Salmon are raised in Norway's fjords, far removed from congested maritime traffic areas. Also, 1.5 miles separate the pens of small aquaculture facilities and three miles separate the pens of larger facilities. No medication or antibiotics are administered preventively or as a growth promoter in the Scandinavian country's feed.
The salmon from Norway's aquaculture pens are higher in omega-3 fatty acids, vitamin C, polyunsaturated fats and protein when compared to wild caught salmon. In terms of mercury levels, Norway's farmed seafood such as salmon, trout, mackerel and haddock are among the best species for consumption and can be eaten two to three times a week due to their low mercury levels.
Sundheim said, "Sustainability is important for the consumer, but many are uncertain of what sustainability really means. This is one of the reasons we emphasize the point of origin, as this makes reference to a production area and helps explain where the seafood comes from."
Although, the point of origin may not easily be identifiable. According to Sundheim, some distributors' production lists might say Atlantic salmon, or farm-raised Atlantic salmon, Norwegian salmon or even a combination of the country of origin and either farm raised or wild caught. Also, there is the potential that seafood might be removed from its original packaging, especially if filleted in the US.
Sundheim offered this advice to chefs who want to be able to identify their seafood's origin, harvesting method and issues around sustainability for themselves and their diners: "There might not be a clear reference to the original producer or country of origin when the fish arrives. That's why my recommendation is to ask the supplier or the distributor."
---
Photo credit: Gunn Norvik of the Norwegian Seafood Council