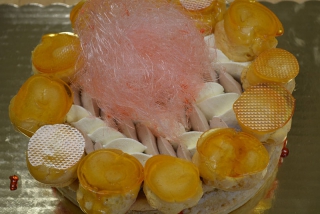 Gateau St. Honore Dessert: The Perfect Pastry Teaching Tool and Patron Bakers' Saint
01 November 2018
Ask yourself: Who is this Saint that has a gateau named after him and why is its creation an excellent pastry skills evaluation?
By Angela Wilson, MSEd, CEPC, CCE, Delgado Community College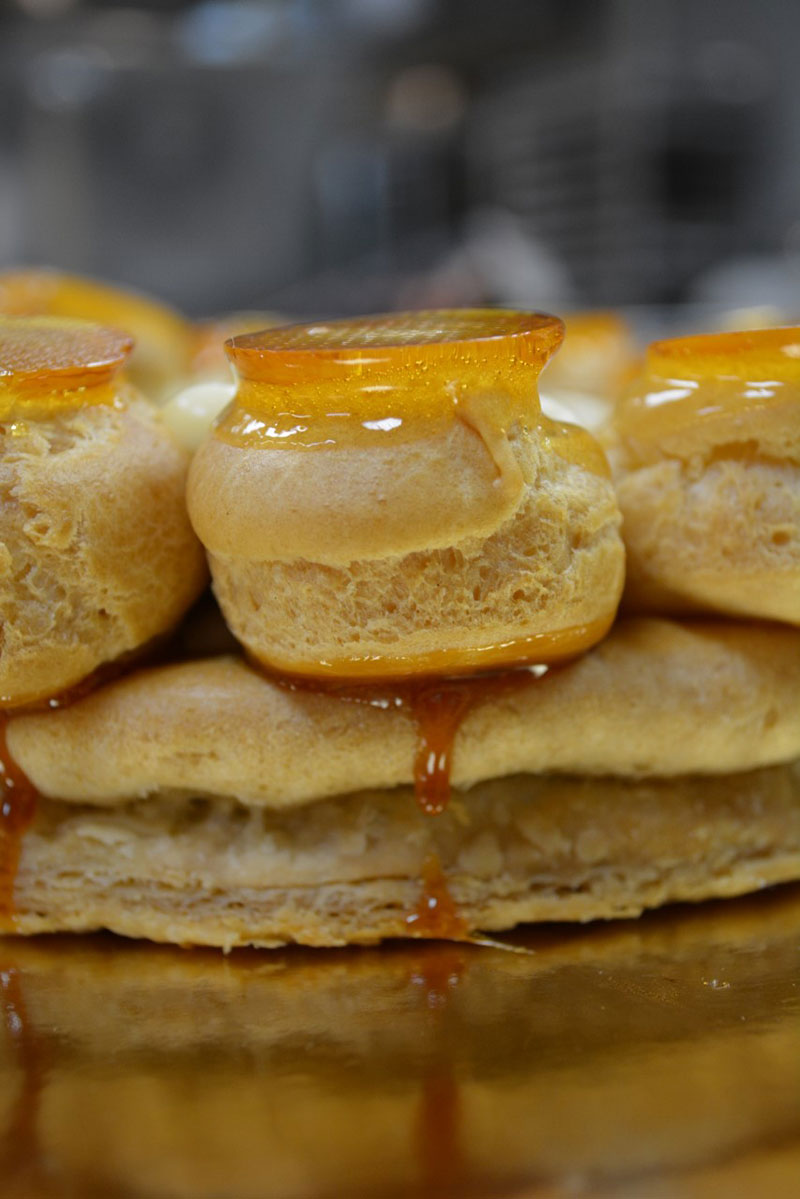 The process of recognizing a saint and recognizing pastry skills in the classroom can be rewarding and difficult. Over the centuries, one person – Saint Honore – has tied these two seemingly different skill sets into one gateau or rich, layered cake.
Let's first start by looking at the pastry. The Gateau St. Honore is an intricate collaboration of pastry techniques and the perfect tool to evaluate a pastry student's knowledge of the classic French pastry. It incorporates laminated dough in the puff pastry base, the classic pate a choux as an accompaniment to the base, a crown of profiteroles filled with chantilly/chiboust cream and finally adorned with caramel and spun sugar. The components come together to form a perfect union of cream, dough and crunch.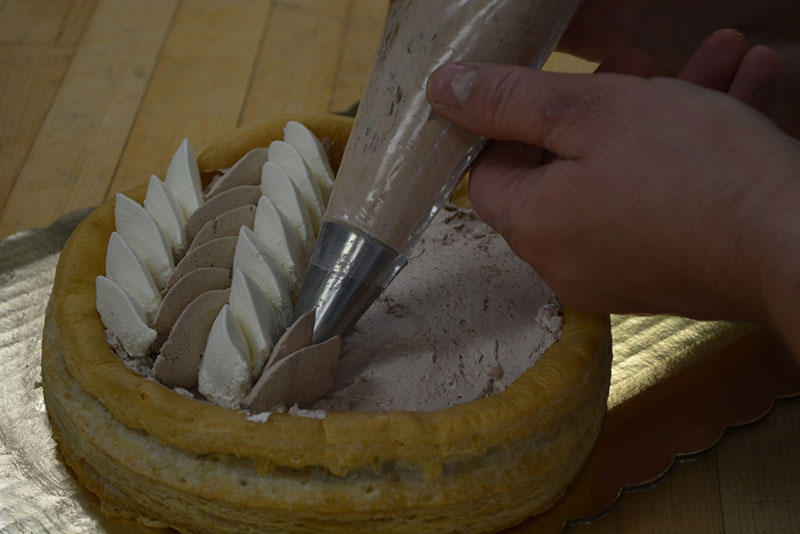 Following a formula to achieve the desired outcome is the foremost technique we teach, each of these recipes support this as well as other specialized techniques. In addition to these formulas being followed and precisely executed, the student is also required to pipe the filling in an alternating pattern of chocolate and vanilla cream using the specific St. Honore tip.
If all of this was not enough to assess skill, the final section of the dessert includes assembling it with caramel, or cooked sugar that has been caramelized to a dark golden brown. Each profiterole is dipped and placed aside another to form a crown of pastry that is then adorned with a ball of spun sugar. The spun sugar, while optional, is an indicator of the student's comprehension of how to correctly handle sugar in order to achieve the spun sugar outcome.
Components and skills requirements for creating Gateau St. Honore
Puff pastry – used for base, demonstrates lamination
Pate a choux – used on top of edge of base, demonstrates piping and mixing
Pastry cream – used to fill pate a choux, demonstrates tempering
Cream filling – used inside of ring of pate a choux, demonstrates recipe manipulation for acquisition of the desired consistency and piping skills
Caramel – used to hold gateau pieces together, demonstrates cooking sugar and décor
Variations on this gateau can include creativity for the student and instructor. The puff pastry base can also be a pate brise dough. The profiterole's cream can be a classic pastry cream while the piped filling can be a variety of versions of a pipe-able cream filling. This dessert can also be converted into a smaller version, testing the skill of creating an individual plated dessert or French pastry that might be available in a pastry shop with a variety of gateaux.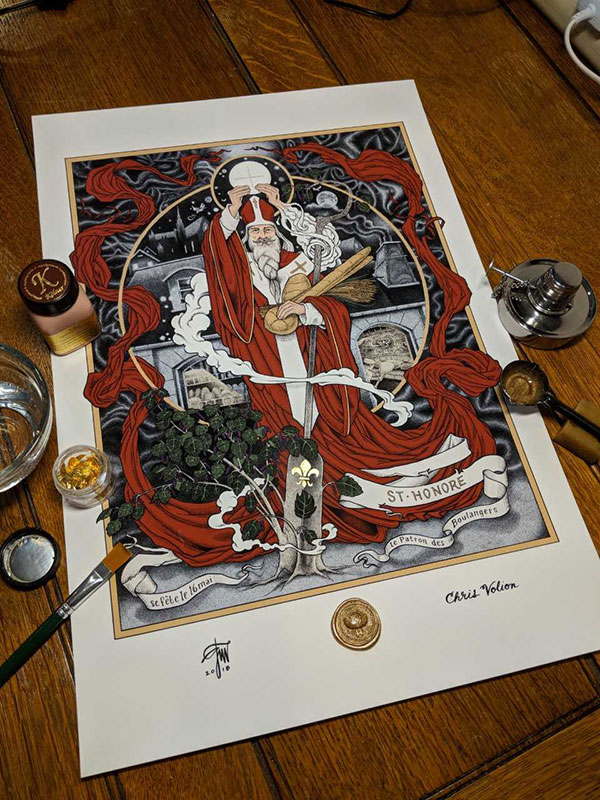 Now, who is the pastry chef's patron saint?
Regardless of religious affiliation, there are some things that are simply iconic like a baker's peel or a person who considered himself reluctant to take on a higher calling.
According to catholicsaints.info, St. Honorius of Amiens is the patron saint of bakers, confectioners, bakers of altar bread, candle-makers, florists, flour merchants, corn chandlers, oil refiners and pastry chefs. He was born in the 6th century, near the town of Amiens, France. It is said when his old nursemaid heard the news that he had been made a bishop, she was baking bread and declared the boy was no more going to be a bishop than the baker's peel she was leaning on would turn back into a tree. The peel then grew roots and branches and turned into a fruit bearing tree. The tree was still a popular pilgrimage site well into the 16th Century. Prayers to St. Honore are said to stop droughts and flooding and ensure good wheat harvests, endearing him to the bakers of the world.
In the 12th Century, a French baker donated land to finance a church in his honor on what is now known as the Rue de Faubourg Saint Honore in Paris. His feast day was established by the French Baker's Guild and since the 17th Century has been celebrated on May 16th.
Let's embrace the heritage and teach future generations of pastry chefs to appreciate the classics while using the teaching tools that have been passed down to us! Bake the world a better place!!!