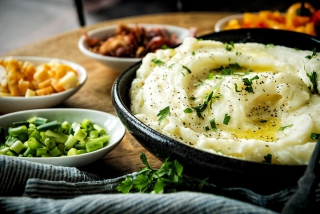 Tips and Tricks of High-volume Catering
04 October 2018
Crafty suggestions for catering large events including how to create the perfect potato bar and menu prepping suggestions.
By Lisa Parrish, GMC Editor, and the Idaho Potato Commission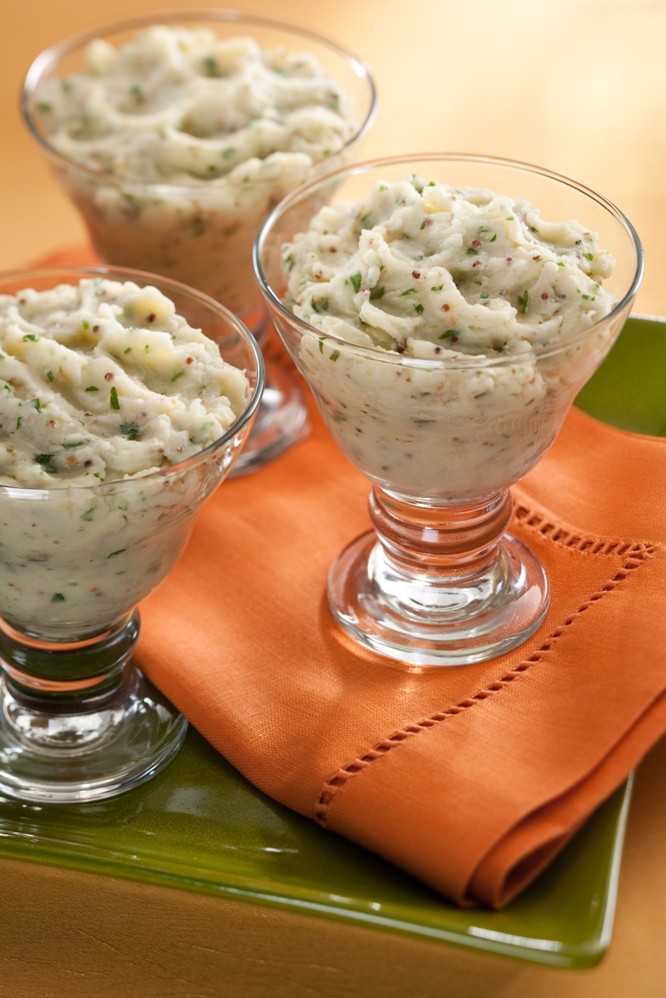 From juicing slightly warmed lemons and oranges to increase yield to cooking stocks from leftover bones and vegetable trimmings overnight in the oven, chefs have their own tricks when it comes to menuing, preparing and serving catered events.
Don Odiorne, vice president Foodservice and Website for the Idaho Potato Commission (IPC), and Dave Woolley, chef/owner of CD Culinary Approach share their strategies and tips for ensuring the best results for large and small catered events. The two collaborate on menu presentations for industry events throughout the year, feeding crowds that range from 100 people at conferences to 25,000 during trade show events.
With 20 years of restaurant, chain and event experience under his toque, Chef Woolley advises culinary chefs to remove as many unknowns as possible when planning any event. "Prep your entire menu before leaving for the site, saving on equipment transport and set up, and leaving the onsite staff free to assemble and garnish the buffet/meal/passed hors d'oeurvre," he recommends. "For situations that require last minute finishing, keep the number of items to a minimum and make sure the equipment functions properly before heading to the site."
Chef Woolley's formative catering experience came courtesy of Walt Disney World. Interning at the famous theme park, he worked in the kitchen of every hotel where he rotated through every station. With such a high-volume cooking background, to him events with more than 100 guests qualifies them as large scale.
In his 25 years at the IPC, Odiorne has had his share of challenges with sites and facilities, including orchestrating a produce industry sit-down banquet at the newly renovated Library of Congress. He noted to be selected for such an event you must be recommended by your Congressman or Senator. He also helped Macy's create a customize-your-own Baked Potato Bar to celebrate their 150 anniversary that featured 150 toppings.
Known in the product industry as Dr. Potato, Odiorne earns his moniker with endless tips on producing the best-tasting and best-looking potato dishes. One of his favorite potato dishes for catering is an au gratin application. "Keeping potatoes hot is always a challenge for caterers," he says. "The layers in au gratin potatoes form an insulation that ensures each serving stays warm."

Scalloped potatoes are another great option for large groups as they tend to stay hot longer with the addition of liquids, cheeses, etc. Ordiorne suggests preslicing fresh Idaho® Potatoes 1/8-1/16" inch thick several days before the event and acidulating them in water with lemon to prevent browning. Another tip is to bake scalloped potatoes in a water bath to prevent curdling and holding the dish for 10 minutes before serving for the most attractive portioning.
"En casserole dishes hold longer than boiled or baked potatoes. Cover the dish loosely with foil and hold in a warm place through a typical service period, about two hours. If necessary, reheat in the oven or brown lightly under a salamander or broiler," Odiorne suggested.
Chef Woolley believes creating a diverse high-volume menu is a collaborative approach between the chef and client. "Sitting and talking through a client's thoughts and expectations helps feel out how creative I can be," he said. "I let them lead the conversation and interject ideas throughout, listening for themes and commonalities which helps me on my suggestive steering. I also remind them of the seasons and fun food trends." He uses the power of suggestion on what foods would taste delicious next to other foods to create smart, diverse menus.
Many times, however, smart menu choices are not only driven by flavor pairing but also by price. To help budget conscious clients interested in serving potatoes, Odiorne offered these practical tips:
Idaho® Potatoes are packed in 50-pound containers. The carton count determines the size ranges. For example, a 50 count equals approximately 50 potatoes in the box averaging one pound each. The most common sizes (and usually least expensive) are 80 or 90 count russets. Store at 45-48°F.
Using a carton of russets as 100 percent, typical costs for the same weight in reds or yellows is about 200 percent, fingerlings about 400 percent. To calculate the individual cost per potato or cost per ounce, use this handy cost-per-serving chart.
Culinary educators gearing up for the catering season may also be interested in downloadable wall charts that precisely explain how to produce potato bars for large events as well as instructions for perfectly baked potatoes. Click here for: