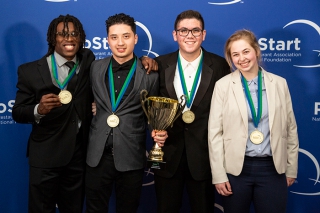 First-time Competitors from Missouri Earn National ProStart Culinary Award
31 May 2018
Butter poached lobster and raspberry dark chocolate Bavarian earn Missouri high schoolers accolades and top honors in national competition.
By Thomas Smith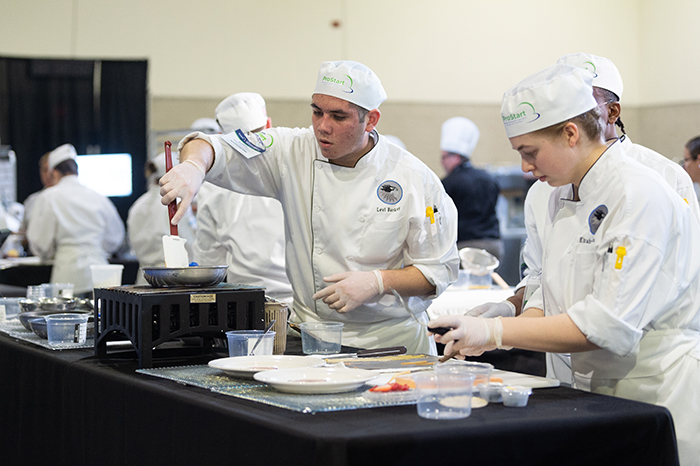 Leading chefs and food industry connoisseurs gathered in Providence, R.I., during the last weekend of April to witness and judge the 2018 National ProStart Invitational, a prestigious cooking competition. In this contest, teams must delight judges with a three-course meal created in 60 minutes with two butane burners and no access to running water or electricity. Although this may sound like a program on the Food Network, the 48 ProStart teams were comprised of high school students from across the country.
The National ProStart Invitational, or "nationals," as it is commonly called by its participants, features two contests: one 60-minute food preparation culinary competition, and one competition in restaurant management. A team from Raytown, Mo., became this year's culinary champions after impressing judges with courses that included butter poached Maine lobster and saffron couscous appetizer, pine nut pork tenderloin paired with truffle Yukon potato and vegetable bouquetiere entrée, and a raspberry dark chocolate Bavarian for dessert. The winning team was coached by ProStart veteran Mike Chrostowski, who previously coached in Kansas for 13 years. He said this was his first year coaching at Missouri's Herndon Career Center.
"This team was probably one of the more unique teams I've had," Chrostowski said. "They were all first year culinary students– they never really did a whole lot of cooking until they came into the culinary program. On the first day of class, we get into the kitchen and they couldn't even tie an apron much less hold a knife."
Chrostowski said team selection is a rigorous process and tough decision, but this team's dedication made them stand out from the pack. Each of his students must write a letter to be considered for Chrostowski's team. ProStart also requires each team to compete in both state and regional competitions to qualify for the national invitational. The coach said despite having vastly different personalities and interests, his team got along well. This was a good sign considering the amount of time teams typically spend preparing for the competition.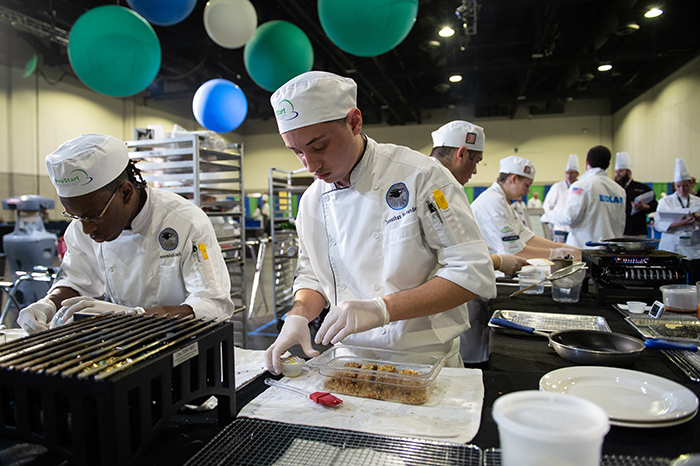 "We spent probably between 600 to 700 after school hours practicing these dishes and getting ready for the competitions," Chrostowski said, "and never really had the hard days where the team didn't get along, or where they were mad at each other for whatever reason. This team– they melded very well, they were all very cool personalities, and free-spirited. They took things with a grain of salt and they just kept on doing. Tying to be better the next day." He said he rarely gets to work with four students who cooperate so well.
"We all definitely come from different backgrounds, different lifestyles, different hobbies," student Levi Barkley said in a video created after the event. "The main thing we had in common at the beginning of the year is that we all wanted to join the team."
Jeremiah Bell, student team member, continued that the team was eager to cook and apply what they learned through ProStart. He commented that they set out with a goal to win the ProStart championship together and became family along the way.
Teamwork and cohesion were significant factors in creating the team's path to victory, the coach said. But, those qualities had to be cultivated along the way. "In the beginning of the process I heard a lot of 'I.' This is 'me.' This is 'mine.' It was never a whole lot of 'we.' I had to develop that idea that 'me' and 'I' don't survive. It's got to be a team effort."
Every student on Herndon Career Center's team had aspects of the menu they were responsible for, each contributing their individual talents to parts of one award-winning three-course meal. For appetizers, the Herndon team's menu included a saffron-infused Israeli couscous, citrus slaw, microgreen salad, and butter poached Maine lobster. A pine nut encrusted pork tenderloin paired with truffle Yukon potato and vegetable bouquetiere were highlights of the entrée course. The judges were especially impressed with the desert selection of raspberry dark chocolate Bavarian and spherical blood orange Bavarian draped in citrus mirror glaze with petite fruit salad and raspberry coulis. Chrostowski said this desert was intended as a play on a dreamsicle. These menu choices were ambitious and ultimately paid off for the Missouri team.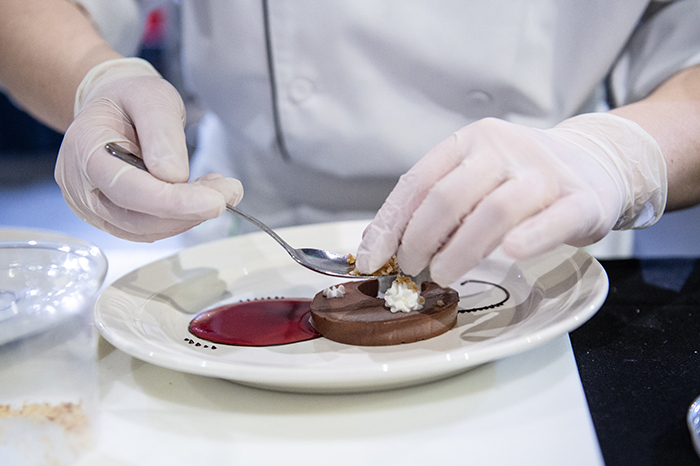 One desert judge, who Chrostowski said had a reputation of brutal honesty, commented that the Bavarian would not be out of place on the menu of Per Se, a fine dining establishment in New York City. "When a 17-year-old culinary student makes this desert and gets that type of complement, it's worth every second of it," he said.
Local vendors also played a role in the team's success by donating food items, Chrostowski said. The team had most of their protein-related expenses covered, which he said he appreciated because there was no other way they could afford items like lobster. Having food items donated was also helpful because it gave the team materials needed to conduct additional practices.
Preparing to compete was a slow and painful process at first, the coach said, as it initially involved a lot of menu item research and fine-tuning. The competition gets bigger and better every year, which means teams can use all the practice and preparation they can get. He said most things went according to plan at nationals, but the ultimate relief was when his team finished preparing their meal roughly two seconds before the timer went off.
The high level of ProStart competition may be a result of the sizeable scholarships awarded to winning teams. Chrostowski said his team's big win was life changing for the students. "They're all going to college now, for free," he said, "which is awesome. They've all committed and are going to Sullivan University. They are taking them up on their full ride scholarship." He said these scholarships mean his students will be going to a college with one of the best culinary programs in the nation.
"Since we launched ProStart 17 years ago, we have graduated more than half-a-million students," said Rob Gifford, executive vice president of the National Restaurant Association Educational Foundation. "We're thrilled to see where this year's competitors' careers will take them as they set out and commit to the restaurant industry."
"Hopefully next year we can duplicate the magic," Chrostowski added.