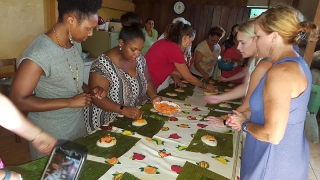 Culinarians in Costa Rica Gain Global Perspective
02 January 2018
NC culinary educators traveled to Costa Rica for an immersive experience in Latin American food culture and food system education.
By Lisa Parrish, GMC Editor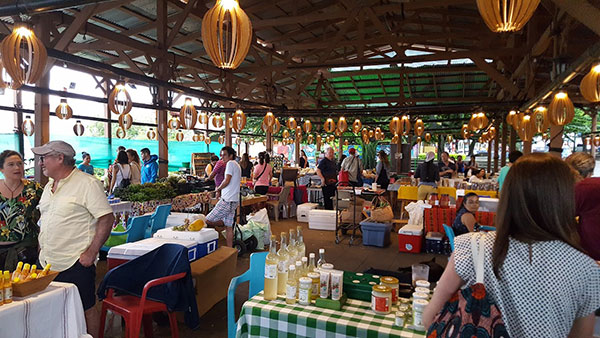 Last summer North Carolinian college and high school culinary educators gained a first-hand look at how Costa Rica goes beyond farm to table practices and tries to sustainably manage its food production system. From coffee and cacao farms in the rain forest to a small fishing village, these instructors moved out of their familiar culinary traditions to explore and welcome new diverse food experiences.
Organized by the NC Department of Public Instruction, Family and Consumer Sciences Education, Reno Palombit selected Costa Rica because of its rich food culture and commitment to a sustainable food process, from soil to consumption. Also, Costa Rica is struggling with challenges similar to that of the U.S. "Some of the Costa Rican children are growing up without food literacy," he said. "The government is taking steps to stay ahead of the curve." The trip's itinerary was created with an eye toward learning how the Costa Ricans were dealing with these challenges.
Two college instructors and 10 high school teachers lived with local Costa Rican families based in the city of Atenas. From there the group explored Latin American food culture by: visiting local sodas, small kitchen-like deli's with informal menus and home-style cooking; attending open-air organic markets; spending time in a cooking school; and learning cooking techniques from an entrepreneurial group of women who sell food directly from their home kitchens.
Going to the National Institute for Learning's (INA) cooking school was a highlight for many. Costa Rican students from the school worked with Saul Umaña, semi-finalist for the prestigious S. Pellegrino Young Chef Competition and INA graduate, to create a showcase meal for their U.S. guests. After the delicious dinner, instructors and students took time to ask each other questions.
"The students were appreciative of the opportunity to be in the program," noted Palombit. "They took pride in the food and were excited to share it with us. They asked a lot of questions." Another benefit to the Costa Rican students was that the encounter helped them understand that hospitality is a field with global employment potential. The INA program is a workforce development initiative offered free-of-charge to those who are selected.
Another memorable excursion was spending time with ladies from a women's business cooperative run out the women's homes. Instructors learned first-hand how to prepare tamales. "This wasn't your typical American kitchen facility. We cooked in a kitchen hanging off a mountain in a rain forest with fires and open windows," said Palombit. In exchange for learning how to make the tamales, the instructors cooked citrus chicken and the classic American dessert carrot cake for the business women. "They loved the carrot cake's texture and cream cheese frosting," he said.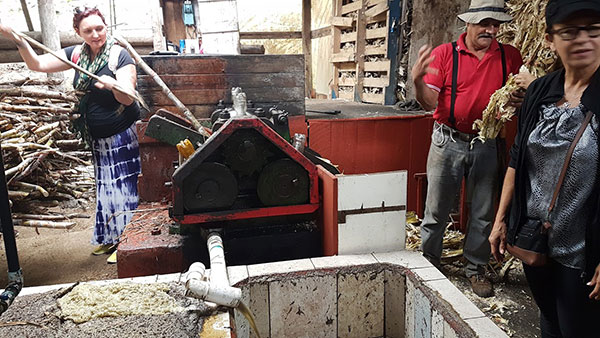 Beyond sourcing food at markets and cooking over open fires, the group also spent time on different farms learning about biodiversity and various farming techniques.
They visited an organic coffee plantation where instructors witnessed how the local family was going beyond sustainable growing to using ideas behind permaculture, or farming with an eye toward ecological design, engineering and construction. It flies in the face of mono farming culture, where farmers plant one type of crop and if an insect comes that eats that plant, the crop is destroyed.
Keith Andreasen, director of culinary arts for Caldwell Community College and Technical Institute, commented that he enjoyed learning how the farmers actually planted other plants nearby for the bugs and pests to eat, which enticed them to stay away from the coffee bushes.
Another educational traveler Robin Hooper, family and consumer sciences teacher and FCCLA (Family, Career and Community Leaders of America) adviser at Elkin High School, enjoyed the sugar cane plantation tour and learning about the traditional farming methods used by the family. She said, "It made me think of simpler times when families worked together and passed traditions on to their children and grandchildren." She also appreciated the farm's commitment to sustainability and how they used all byproducts, including feeding the tops of the sugar cane plants to the farm's goats.
"The farming experiences gave some of the participants, those without a lot of agricultural experience, a broader understanding of the benefits of knowing where the food comes from and why it's important," said Palombit. "It more than just trying to buy local, which is important. It's about visiting and talking with the farmers."
The group also traveled to a small fishing village where the local fishermen bounded together creating a fishing cooperative to advocate for fishing boundaries. Andreasen found it interesting how the group had to overcome the problem of larger countries with vast fishing fleets depleting the local fish resources.
Both Hooper and Andreasen have incorporated experiences from their trip into their classroom instruction. "I have shared much of the information I learned from our visits to the pineapple plantation, sugar plantation, the fishing co-op and chocolate tour with my Foods and Nutrition class," Hooper said.  
"My students love hearing about other cultures, as many have never traveled or experienced anything other than their own culture," she continued. "Hopefully, hearing about my experiences will encourage my students to be more accepting of those from diverse places. And, who knows? Maybe it will awaken a sense of adventure in them!"
Palombit was struck throughout the trip by how the Costa Ricans were developing the idea of food literacy within their population and understanding the impact of food choices on health, the environment and economy. "It's also about understanding the complete system between the farm to the table," he said.
As Palombit looks to developing the future North Carolina culinary curriculum, he will look to support the principles of relationships between food, health, and culture; sustainable agricultural practices; and the importance of supporting local farmers and food systems. "This experience taught me the value of knowing the food system and its broader implications."