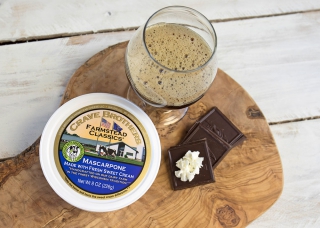 Elevating the Holidays with Elegant Cheese Pairings
29 November 2017
Beverages from craft beer to cider bring out the nuanced flavors of Wisconsin cheeses
By Wisconsin Milk Marketing Board
While bountiful and beautifully simplistic cheese boards are all the rage, chefs can take the specialty cheese trend to the next level by creating a custom cheese pairing. Creating an elegant combination of award-winning cheeses is easier than you may think, and it will keep consumers and guests alike buzzing well past the New Year.
Sara Hill of the Wisconsin Milk Marketing Board selected five specialty cheeses from Wisconsin to pair with refreshing drinks and accouterments that bring out the unique flavors of each cheese. As a state, Wisconsin leads the nation in the most awards for cheesemaking so Hill suggests choosing the cheese first, followed by a beverage that will help advance the flavors even more.
The key to finding the perfect pairing for specialty cheese is a science that can leave even the most experienced foodies questioning how to get it just right. Hill often refers cheese enthusiasts to Cheese Cupid, a comprehensive cheese and drink pairing guide.
While cheese is traditionally paired with wine, both chefs and at-home entertainers are innovating in the kitchen by seeking new ways to elevate cheese beyond the popular cheese board. Luckily, chefs can pair cheese with nearly any drink, alcoholic or non-alcoholic.
"Before craft brewing began in the U.S., we relied on wine to pair with our cheeses, and although there are many fabulous wine and cheese pairings, the craft brewing industry has really given us exceptional flavors to pair with the bigger and more complex flavors developed by our award-winning cheesemakers," says Hill.
A new way to elevate the cheese tasting experience is pairing cheese with craft brews and other fermented or sparkling drinks - like kombucha, cider and spirits. "The carbonation of beer helps to cleanse the palate and create a third flavor when the cheese and beer are in your mouth together. Fruit ciders and spirits like bourbon can also complement our big, savory aged cheeses," says Hill.
Before trying to pair a cheese with any drink it is important to understand the different flavors and how they work together. There are two common schools of thought when it comes to pairing cheese—complementary and contrasting flavors. The best cheese and beverage pairings are evenly matched, with neither one overwhelming the other.
Pairings are great to serve as a flight, appetizer or dessert. Guests can enjoy these pairings all year round, but the holiday seasons gives them a special reason to indulge.
Deer Creek The Blue Jay
To get started, the first pairing is often unexpected but appreciated by many. The Blue Jay cheese by Deer Creek is made using a quintuple crème blue cheese and infusing it with crushed juniper berries. The result is bold, botanical and blooming. The perfume of juniper berries creates a delicate bouquet, perfect for pairing with a piney and sophisticated gin and tonic. This cheese was crafted by Wisconsin cheese grader Chris Gentine of the Artisan Cheese Exchange, who works alongside Wisconsin Master Cheesemakers to develop a wide variety of unique and flavorful artisan cheeses.
Widmer's Six-Year Cheddar
Made by a third generation cheesemaker and owner, this six-year aged cheddar is rich and creamy. The cheddar's caramel notes make candied pecans a tasty accoutrement, and its age also balances well with the pecans. We suggest savoring this pairing with a sweet apple cider warm or chilled! We chose non-alcoholic cider for this pairing, and it can easily be replaced with an alcoholic cider if guests prefer to have a drink.
Marieke® Young Gouda
Handcrafted with passion using an authentic Old World gouda recipe from her native Holland, Marieke's creamy and mild gouda is made with the freshest, raw cow's milk from her family farm in northern Wisconsin. Paired with peach preserves or orange marmalade and toasted nuts, like almonds, this buttery young gouda is slightly sweet. Enjoy it with a refreshing glass of white wine, like Sauvignon Blanc.
Sartori BellaVitano® Gold
An American original, BellaVitano® tastes like a premium parmesan with its nutty and fruity flavor, leaving a hint of melted butter on your tongue. No matter the beverage flavor, BellaVitano® pairs well with many cocktails and beer, especially an an amber ale. To keep consumers entertained, pair BellaVitano® Gold with your favorite local craft beer and bring in a seasonal flair with sea salt caramels, which pulls the whole flavor profile together.
Crave Brothers Mascarpone
Almost everyone loves cheese and chocolate. Have you ever considered pairing them together for something other than a cheesecake? We chose to top a small piece of 60 percent dark chocolate with luxurious and velvety mascarpone. It's a perfect pairing to please those with a sweet tooth. Hill likes to include this as her last pairing in a cheese and beer flight, which we suggest you do too! This is a great option for those who want to finish dinner with a sweet dessert, but don't want to be left feeling stuffed. We suggest washing the chocolatey bitterness off your palate with a sweet cherry beer, like a red Belgian.
All of these pairings were hand selected by Sara Hill, Manager of Cheese Education and Training at Wisconsin Milk Marketing Board. As a graduate of the Culinary Institute of America in Hyde Park, New York and 36-year veteran of specialty cheese, Hill is often referred to as a "cheese guru."
---
Photos courtesy of Wisconsin Milk Marketing Board.