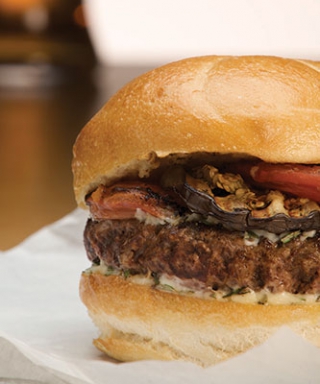 Consumers are Making Theirs a Lamb Burger
Ground lamb use growing with additional menu options from ethnic dishes to the all-American burger
By the American Lamb Board
Lamb burgers are growing in popularity. A quantitative research study by Datassential MenuTrends™ reveals that lamb burger penetration on menus has grown every year for the last 11 years, with burger penetration up 120 percent in the last four years and up 17 percent last year alone.
"Ground lamb is affordable and versatile and used in many approachable dishes," said Megan Wortman, executive director of the Denver-based American Lamb Board. "We are seeing both home cooks and chefs using ground lamb in meatballs, burgers, tacos, koftas and more."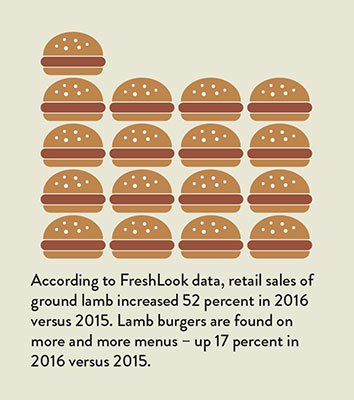 Ground lamb is used in place of other ground meats in many recipes. This trend is showing on menus as well as in retail sales. According to FreshLook data, retail sales of ground lamb increased 52 percent in 2016 versus 2015.
"American Lamb is about flavor and adventure – rather than hamburgers, tonight we eat lamb burgers!" said Wortman.
Restaurants throughout the country are featuring lamb burgers paired with Mediterranean-inspired condiments. Here is a sampling of various restaurants and their menu offerings:
Burger Lounge – grass-fed lamb burger with smoked mozzarella, fried jalapeños, avocado, tomato, house barbeque sauce, radish, cilantro, watercress
Del Frisco Grille - lamb burger with sun dried tomatoes, arugula, tzatziki sauce
Hopdoddy Burger Bar – Greek lamb burger with feta cheese, arugula, pickled red onions, beefsteak tomato, tzatziki sauce
Park Burger - Lamb Burger - 1/3 lb. Colorado lamb patty, Mediterranean
relish, feta cheese, tzatziki sauce
Rioja - Colorado lamb burger with house made mozzarella, spicy aïoli, arugula salad
The Rail – Lamb burger with 50/50 lamb and Ohio beef blend, gyro seasoning, mozzarella, sautéed mix of red and green peppers
Silver Diner - Local lamb and merguez sausage burger, tahini harissa yogurt, feta, arugula, caramelized onions
Slamburger - Lamb slam with grass-fed lamb, green leaf, tomato, garlic aioli, house
chimichurri, house pickled red onion, house pickle
The Breslin – Chargrilled lamb burger with feta and thrice cooked chips, served with cumin mayo
Yard House – Lamb burger with feta cream cheese, arugula, caramelized jalapeño shallot relish
ACF Continuing Education Hours Earned at Curriculamb
Wortman also recommends that culinary educators with limited budgets should use ground lamb as a way to introduce their students to lamb. "Teaching students about flavor differences by comparing lamb burgers to other burgers is very affordable," says Wortman. For more lesson plans and culinary education support materials, use the American Lamb Board's Curriculamb. Also, instructors who complete and return the final quiz will receive ACF continuing education hours.
Teaching Tips Using Ground Lamb
Ground American Lamb is generally an 80/20 blend. Most ground lamb comes from the shoulder, legs, and trim.
A lamb burger should be grilled or broiled for approximately four to six minutes per side.
The USDA suggests that ground lamb like other ground meats should be cooked to an internal temperature of 160 degrees F.
Lamb is among the most common meats consumed around the world. Ground lamb may be used in many globally-inspired dishes – from moussaka to samosas to tacos.
Merguez, a North-African sausage, is typically made with ground lamb.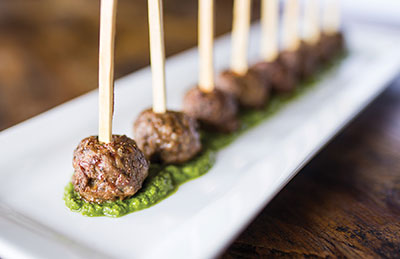 Ground Lamb Recipes
Click here to find an assortment of American Lamb Board's ground lamb recipes from American lamb meatballs to kofta to merguez.
About the American Lamb Board
The American Lamb Board is an industry-funded research and promotions commodity board that represents all sectors of the American Lamb industry including producers, feeders, seed stock producers and processors. The Board, appointed by the Secretary of Agriculture, is focused on increasing demand by promoting the freshness, flavor, nutritional benefits, and culinary versatility of American Lamb. The work of the American Lamb Board is overseen by the U.S. Department of Agriculture and the Board's programs are supported and implemented by the staff in Denver, Colorado.