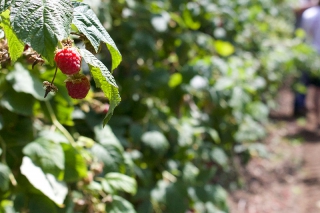 Come and Meet the Growers
02 January 2018
New monthly column connects chefs with farmers to help complete the food cycle education.
By Lisa Parrish, GMC Editor
This new Gold Medal Classroom monthly column will feature farmers, growers and various professionals who are responsible for beginning the food cycle. From produce to proteins, educators can gain insight into the knowledge and care taken to bring food right to your kitchen door.
Enter the world of sun, soil, rain and feed to find out where food comes from. First up:
Rob Dhaliwal
Samson Farms owner
Everson, Washington
Red Raspberries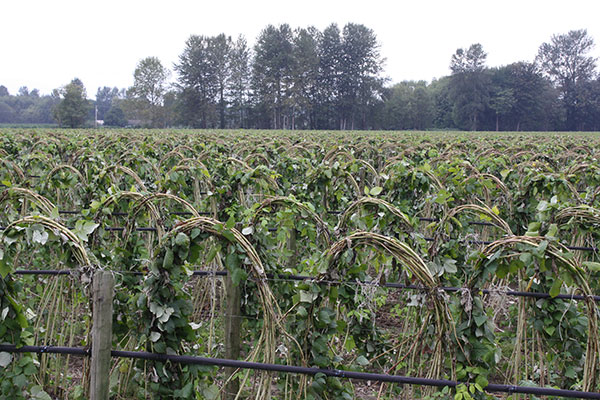 How does a cool climate – with summer temperatures hovering in the mid-70s- and moderate winters – rarely below the mid 20's – sound? It should sound great if you are a red raspberry farmer. Add into that moist, well-drained soil and you have the picture perfect, sweet growing environment for the red-purple hued fruit.
Rob Dhaliwal, owner of Samson Farms, says the cool temperatures allow the fruit's sweet flavor to fully develop. He should know, as his experience began with farming at his dad's side 40 years ago.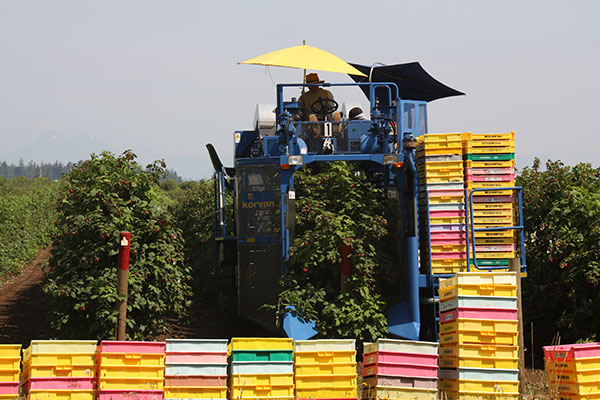 The 250-acre farm is one of about 100 growers in the Everson, Wash., area. Made up of large- and small-growers, this close-knit farming community works together to consistently grow clean, healthy and safe produce consumers feel good about purchasing.
Dhaliwal proudly talks about walking his fields and scouting them for a first-hand view of the crops and their growing conditions. "We are environmental stewards of the land. We want to have the best practices in preserving the soil," he said. "Being the best in soil management helps reduce our costs and is better for the environment. It's just good."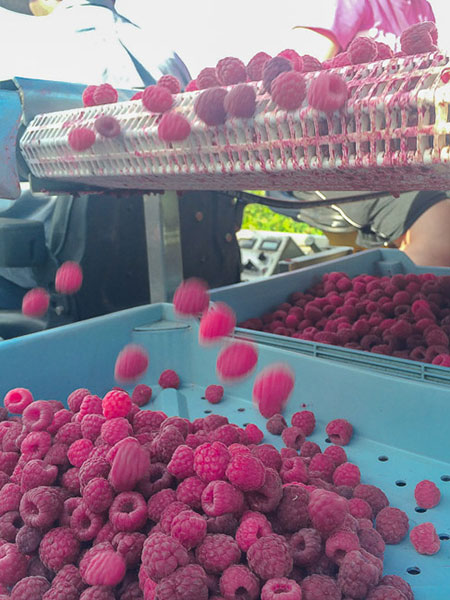 Not only does Samson Farm grow raspberries, but the farm also freezes them within two hours of harvesting. The berries are picked by machine and brought directly a processing facility located on the farm. There the fruit is cooled to about 40 degrees to pull of field heat (the naturally occurring heat from the sun). This initial cooling process also helps the berries maintain their integrity during the flash freezing process, which takes 6 to 8 minutes to bring the berries to zero degrees. After frozen, the berries are sorted and packed into 10 and 20 pound shipping boxes.
The benefit of a two-hour window of picking to freezing is that it locks in the berries' flavor at maximum maturity. "Fruit is at full ripeness and ready to be picked with it's the correct deep-red color and it drops easily from the plant. At that point, the flavor has the perfect balance of sugar and acid," he said. "If it's too tart then the fruit is over-mature. The sweeter the better."
Dhaliwal believes many consumers are not familiar with the taste of a real raspberry at full ripeness and sweetness. "It's a distinctive taste, not like what comes from an artificial flavoring. People who don't know what a real raspberry tastes like have a real wow-flavor-factor moment when tasting them for the first time," he said.
When asked about his favorite way to enjoy raspberries, Dhaliwal had to think for a moment about it. Finally, he said, "I like every which way the raspberry can be used. Because of its acidity, it can be made in a wide-range of things from raspberry lemonade to a vinaigrette." After a little more thought, Dhaliwal finally settled on this: "As long as the full flavor of the delicious raspberry comes through – I would not be opposed to eating anything that is made with raspberries."