Guest Speaker: If You Want Something, Ask for It
24 July 2012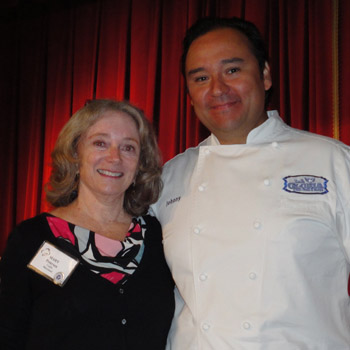 Chef Johnny Hernandez inspires foodservice educators at the 2012 CAFÉ Leadership Conference in San Antonio.
By Brent T. Frei
"Teachers and educators are some of my favorite people in the world," said Johnny Hernandez as he began his keynote and shared his career story at the 2012 CAFÉ Leadership Conference at The Culinary Institute of America-San Antonio on June 23. "It's our responsibility to teach."
A successful chef, restaurateur and caterer, Hernandez told the story of his love and passion for food that began at age 5 in his father's restaurant and at home in San Antonio's westside neighborhood. At 9, he sold tacos from the restaurant to fellow students at school. Later, his home-economics teacher in high school accompanied Hernandez to the Marriott to ask for a cooking job.
"She took half a day on the weekend to do that for me," Hernandez recalled. "It changed my life."
Encouraged by his father—whom Hernandez credits as his first and most influential teacher and mentor—he left home to attend The Culinary Institute of America in Hyde Park, N.Y. Early on, Hernandez' career took him to some of the most exclusive resorts in the country, including the Mirage Hotel & Casino in Las Vegas, Nev., and the Four Seasons Biltmore in Santa Barbara, Calif. Today he's a culinary force to be reckoned with in San Antonio, and his star is rising fast nationally.
"My father drove my career," Hernandez said, noting that the senior Hernandez, whose own education never surpassed the second grade, wanted his children to succeed in life. "He supported education, and was a great leader. Kitchens are stressful. He always took time to lead by example. Today I do the same, and I empower my management team."
It was his yearning for home, the love for his culture and his entrepreneurial spirit that led Hernandez back to San Antonio. In 1994, he opened True Flavors Catering and quickly built a solid reputation. Since its inception, True Flavors has notably grown to be one of San Antonio's most regarded caterers, receiving the 2006 Operator of the Year award and being a two-time recipient of the National Association of Catering Executives' Caterer of the Year. As success continued, Hernandez expanded his endeavors, starting the popular seasonal MesAlegre Chef's Table at the Pearl Farmers Market—a hot-ticket among food and sustainability enthusiasts alike.
Throughout the years, Hernandez has been inspired by Mexico and the cultural nuances of each region's art, agriculture and, most importantly, street foods. The foods and traditions have inspired him to create authentic and accessible interior Mexican street food for American diners. La Gloria, situated on the grounds of the Historic Pearl Brewery near the CIA campus, is that vision realized. Recently named Best New Restaurant by Express-News readers, La Gloria, a celebration of the cuisines of inner Mexico, has been recognized many times over for its unique concept and unparalleled dishes by local and national media, including San Antonio Magazine, Siempre Hombre, Texas Monthly and Travel & Leisure.
Hernandez has many new exciting things happening today. Los Portales, a culinary destination on the north side of San Antonio, is under way, where another la Gloria location will open including a bakery and a torta and ceviche bar. Frutería la Gloria, a downtown eatery complete with fruit-infused tequilas and a new approach to the traditional fruit stands of Mexico, is scheduled to open in September 2012.
Having spent 10 years as chair of the advisory board of the culinary-arts program at St. Phillips College in San Antonio, Hernandez strives to give back to the industry in honor of those who helped him achieve so much when he embarked upon his career. "I tell students if you want something, you have to ask for it," he said. To that end, he envisions launching an entrepreneurs' workshop for young chefs who dream of owning their own restaurants. Like so many of Hernandez' aspirations, this latest is likely to come true.
---
Photo: Mary Petersen, founder and executive director of CAFÉ, thanks Johnny Hernandez for his passionate and inspirational keynote at the 2012 Leadership Conference at The Culinary Institute of America-San Antonio in June. Courtesy of Brent T. Frei.