Guest Speaker: A Parade of Nations for Good
01 November 2011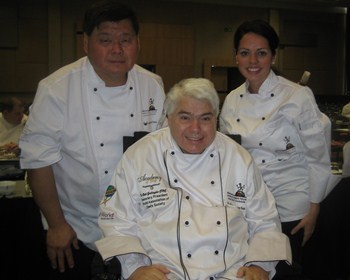 The president of the American Culinary Federation led an entourage of U.S. chefs to partake in and contribute their talents to the Bidvest World Chefs Tour Against Hunger in South Africa in August.
By Michael Ty, CEC, AAC
Like many chefs, I knew about the World Chefs Tour Against Hunger in 1993 and 2003, events that made a difference in the lives of the children of South Africa. Although I was not able to participate in those first two tours, I knew many ACF chefs who did. They came back with stories that were unbelievable, and some chefs considered the experience life-changing.
The founder of this event is a dear friend of many years, Chef Bill Gallagher. I have had a longstanding invitation to go to South Africa and experience the beauty and culture of his country. I was able to take him up on the offer when I made a commitment to be part of the 3rd World Chefs Tour Against Hunger in August. More than 240 chefs from 44 countries participated, and our common bond was an interest in the children's welfare.
We were welcomed at a reception in Johannesburg on August 20. This was an opportunity for the chef participants to meet their counterparts from other countries. I knew quite a few of them, and we had plenty of time to network and get to know each other better.
Registration was August 21, and we attended an orientation session to learn about the culture and what to expect when we went to the hotels where we would prepare meals. That afternoon, we marched almost 2½ kilometers through Alexandra township to the police station, where there was entertainment for the children and a meal prepared by the chefs.
On August 22, we took part in a parade of nations, each country's representatives accompanied by a South African child. The children performed "Sing Children Sing" by P.J. Powers. Then we were off to our various destinations. Teams were assigned to five cities: Cape Town, Durban, East London, Johannesburg and Nelspruit. Team USA was divided into three teams sent to Cape Town, Durban and Nelspruit. The goal was to raise 5 million rand by the Gala Dinner on August 30.
I was in the team assigned to Durban, and during the months before we left for the tour, we had gathered recipes from team members and submitted them to Xanthos Giannakopoulos, executive chef at Southern Sun's Suncoast Hotel & Towers. The menus were featured at his restaurant, and a percentage of the evenings' receipts were given to World Chefs Tour Against Hunger.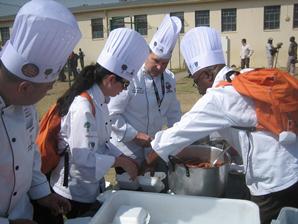 (l. to r.) Roger Duran, Trisha LeBlanc, Keith Keogh and Clayton Sherrod.
We were in Durban for almost a week with chefs from six other countries who were stationed in other Southern Sun hotels. We met every day as a group, but each team was responsible for the preparation of evening meals at the assigned hotels. Besides preparing food for the hotel's restaurant, we did food demonstrations that used many of the animals traditionally eaten in South Africa. One of the most interesting proteins was springbok. I used this in two of my demonstrations, and it was quite tasty.
Activities for the week included visiting an orphanage and preparing food for the children, a 6-kilometer march on the promenade of Durban's beaches, feeding more than 600 children, and gathering to create a South African "flag," with a picture taken from the top of a building.
We returned to Johannesburg to prepare for the Gala Dinner. The morning of August 30, we went to Akani Diepsloot Foundation, which provides an after-school program in Diepsloot just north of Johannesburg, and prepared meals for the children.
That evening was the Gala Dinner, and chefs dressed in whites joined guests and patrons for a wonderful meal and a fabulous show. At the conclusion of the dinner, it was announced that we had exceeded our goal and raised almost 8 million rand.
Chefs who came to South Africa for the tour were responsible for their own airfares. Once we arrived, hotel accommodations and meals were provided by Southern Sun hotels, ground transportation by Budget and airfare to the outlying cities by British Airways.
The World Chefs Tour Against Hunger was an extremely rewarding experience. It was certainly an eye-opener, and something I will never forget. I enjoyed meeting the chefs from all over the world and getting to know them.
My thanks to the organizing committee, the South African Chefs Association and to the tour's founder, Chef Bill Gallagher, for allowing me to be a part of this wonderful event. A special thanks to the ACF chefs who represented us at the WCTAH. They were Roger Duran, Scott Gilbert, Christopher Johns, Keith Keogh, Trisha LeBlanc, Michael Minor, Michael Pennington and Clayton Sherrod.
---
Michael Ty, CEC, AAC, is president of the American Culinary Federation based in St. Augustine, Fla., and executive chef/owner of MT Cuisine based in Las Vegas, Nev.
Caption: (l. to r.) Michael Ty, Bill Gallagher and Trisha LeBlanc.