Guest Speaker: The Coach in All of Us
01 September 2011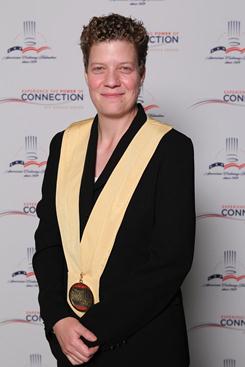 The American Culinary Federation's 2011 Chef Educator of the Year says success and failure through solo and team competitions helps prepare students for the real-life rigors of the workplace.
By Dina Altieri, CEC, CCE
Maybe I have always been competitive. I can remember wanting to hit a home run every time I got up to bat on the tee-ball field. I can remember my first softball coach encouraging me to be the best I could be at 7 years old.
Coaching is something we do every day as chef educators. We push our students to excel in ways they never thought possible. We have conversations with them about mise en place, professional etiquette and, of course, cooking ability. I vote we take it a step further and encourage them to compete in extracurricular competitions to whet their appetites for what lies ahead in the foodservice industry.
Let's face it. The workplace is competitive. Our students need to experience successes and failures as often as possible so they are exposed to the whirlwind of emotions that they will face in the foodservice industry. Someone stole their knives, someone else stole their mise en place, and someone is competing for the same grill-station job that they want. Competition is inevitable for them as they enter the workforce. Isn't it our job to prepare them for the industry?
I have experienced coaching and judging students in both theoretical and technical cooking competitions. I believe that even the most informal competition brings out the best in them. Perhaps more important than the competition itself is the planning and preparation for the event. I firmly believe in my own job that preparation for the day is 90% of the battle. Writing production lists for their mise en place, preparing test batches of recipes, revising their work and playing other teams in scrimmages all speak to the discipline of the planning and preparation phase.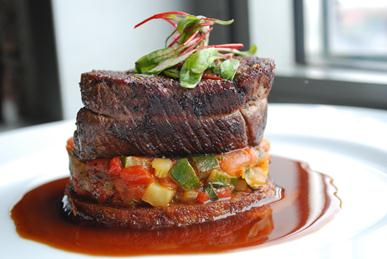 Photo caption: Altieri's sautéed beef filet with quick summer-vegetable ratatouille and red-wine pan sauce, which helped win her the 2011 ACF Chef Educator of the Year Award against three other regional finalists in Dallas in July. Courtesy of Andy Power.
The exhilaration is evident in every student I have seen compete. They have been working hard to prepare for the competition and they are ready to shine. What a wonderful experience for them to reach beyond what is required in our programs. They build valuable communication skills if they are competing within a team and learn the dynamics and camaraderie of a team effort. If competing solo, they learn how to rely upon themselves for self discipline and develop strength independently. Does the foodservice industry skill set require these attributes in new cooks? I believe our industry begs for high-caliber new recruits.
From a coaching perspective, my involvement has been one of the most satisfying elements of my career. I get such a charge out of seeing my students build confidence and I know that training for competitions makes them better culinarians. We know our students benefit from hard work, repetition, enhanced confidence and sound critical-review skills. So, come on coaches, let's play ball!
---
Dina Altieri, CEC, CCE, a chef-instructor at the Kendall College School of Culinary Arts in Chicago, is the 2011 American Culinary Federation National Chef Educator of the Year. She coached the team from Kendall that represented the ACF's Central Region and won the 2011 ACF National Baron H. Galand Culinary Knowledge Bowl for the second consecutive year.