Guest Speaker: My Culinary Awakening in Europe, Part 2
01 December 2010
By Michael Riggs, Ph.D, CEC, FMP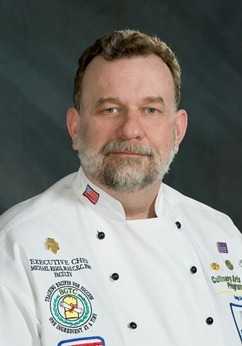 An educator returns from a summer excursion abroad with a new appreciation of community and culture communicated through food and cuisine.
Over the summer of 2010 I was given a unique opportunity to spend 14 days in England at Oxford University studying the history of European cuisine. First let me say that what took thousands of years to develop could not be researched in 14 days even with the 100 miles of books at the Oxford Bodleian Library. But what I did learn and experience came in the form of the best kind of research, eating and having conversations with chefs, restaurateurs and the people of the countries I visited: Let's begin my journey…
[See part 1 of Riggs' story of his journey by clicking here. The story concludes below.]
While in Oxford I was able to gain a solid understanding of English cuisine, its focus on fresh products, light meals, healthier cooking techniques (except for the pastries) and a more relaxed approach to dining as an event—not just something to somehow squeeze into the day. The diversity of ethnic cultures in Oxford and England as a whole has led to a wide selection of international cuisines with a great deal of authenticity in them in comparison to the "Americanized" international cuisines we commonly see in the United States.
Then it was time to cross the channel and find Paris, France: nirvana for us culinarians. I attended a cooking class at Le Cordon Bleu, the mother ship of all cooking schools. Under the direction of Chef Bruno Stril, a former head chef at several Michelin star-rated restaurants in Europe and Shanghai before he became a chef educator. We prepared roasted lamb with mint and confit of Provençal vegetables. We fabricated the lamb loin from the rack, then used the bones to make a quick stock, which we turned into a sauce. We blanched, then sautéed, fresh vegetables in butter (only fresh herbs and spices in his kitchen), rolled the loin in chiffonade mint, then wrapped it in an African version of puff pastry and baked it. Yes, it tasted as good as it sounds!
The French cafés and bakeries were another tremendous experience. Again, taking the time to turn a meal into a social experience was the focus—fresh foods, smaller portions, with bakeries and cafés on every street corner. Delivery trucks with specialized food items everywhere. The culture of food is completely different. Food is the focus. It is not just beer and wings, which I truly enjoy before a game. It is the reason to gather; it is the entertainment of the evening; it is cuisine. Too be in the setting where French cuisine was brought to life reinforced again for me what I teach, the influence of European chefs on my profession. Classic cuisine. The finest ingredients combined with the simplest and correctly performed techniques make the best food. This is where the masters worked and developed what we do hundreds of years later.
One last excursion took me to Bruges, Belgium, the Venice of the north. A true Belgian waffle is served in the mornings as more of a take-with-you pastry, with crystallized sugar on top, was enlightening, as, again, in the United States it is covered in syrup and fruits and whipped topping, which I love, but is so far removed from its origins. This was a special place.
In the evening I was able to visit with a veteran and much-seasoned older chef in a small restaurant in downtown Bruges off the path by a bridge over one of the canals. He prepared tableside a black-peppered Belgian blue beef steak in mustard and brown sauce in a cognac flambé. I experienced the interaction between the chef and his patrons. No one was in a hurry, and it was 11 at night. The focus on the experience of dining, again, was dominant. The beef he used is specially bred by Belgium beef producers and only sold to restaurants. You cannot buy it in the store, something not done in the States. Again, cafés everywhere, fresh food in the market, small grocery stores with limited items. People go to the market every day … food, food, food!
What I Learned Over Summer Break
I now understand why food has such an intimate place in European culture. The smaller size of European countries compared to the United States and the diverse specialization of food and the international supply system allows them to truly live the farm-to-table fresh-food format. Something we in America used to do. Chef Ramil-Davis said it this way: "No matter what direction I travel, I can be at the ocean in two hours or take a train to Paris in two hours or to Belgium in two hours and get the best chocolates, seafood and cheese in the world." Mostly, I learned to slow down and enjoy both the cooking and eating of food.
I believe we can do the same in America. Our culture up to about two generations ago—that's Grandma or Great Grandma for most of us—did it with fresh foods, small gardens, kitchen tables and big Sunday dinners. Let's bring back a focus on making food not something we fit into our day, but a reason to gather together, break bread and share time. That's what I learned on my summer vacation!
---
Executive Chef Michael Riggs, Ph.D., CEC, FMP, is an associate professor in the culinary-arts program at Bowling Green (Ky.) Technical College and president of the South Central Kentucky Chapter of the Kentucky Restaurant Association.