Guest Speaker: When the Second Act Is Better than the First
23 November 2009
By Peggy Ryan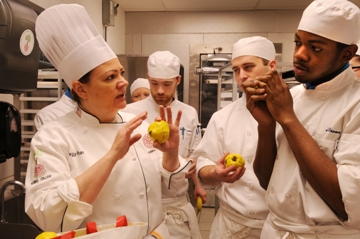 Transcripts of the acceptance speech of Women Chefs & Restaurateurs' 2009 Educator of the Year.
If you had told me in 1989 that I would be named Educator of the Year by WCR in 2009, I would have been completely flabbergasted.
In 1989 I was the chef and owner of a popular and well-regarded regional Italian restaurant in Evanston, Illinois, Va Pensiero.
I had been cooking professionally since my mid-teens, and that was the only job—besides milking cows on my family's dairy farm—that I had ever done, or wanted to do. I had known since I was 13 that I wanted to be a cook.
I loved the restaurant business. I loved the hard work, the immediate gratification, the constant challenge. I loved the rush of the line, the chance to make a dish perfect over and over.
I loved the burns and the cuts that were the chef's "badges of honor." I loved the late nights and bonding with my cooks. I loved having my "regulars" and making them happy. I loved the fact that I wasn't in a boring, pencil-pushing business.
Teaching cooking, instead of cooking on the line, was the furthest thing from my mind. Back then I thought culinary schools were where old country-club chefs went to die.
Ten years later, by 1999, things had changed a bit. I had a husband and two small children, and my restaurant had grown substantially.
I now had 40 employees, and when you have 40 employees, I guarantee you that someone is always, at any given time, doing something stupid, and it is your job to find out who and what it is. The constant policing and time it took away from the kitchen wore me down.
My darling 4-year-old son and 2-year-old daughter did not respect my love of late nights.
The lack of sleep wore me down.
I had now spent more than 20 years of my life working long hours over a six-day work week. The toll it took on my body wore me down. I was burnt out and fried to a crisp.
Sadly, I didn't know any other women who were in my situation, and I had no one to ask for help or advice.
I just couldn't do it anymore.
After much deliberation, I decided to sell the restaurant. In 2000, the sale went through and, for the first time in my life, I wasn't in the food business.
When the papers were signed it was both an exhilarating and depressing moment. What was I going to do now?
The first two years after the sale, I kept myself busy with the kids. It was great to see my family again on a regular basis.
I had also started teaching some cooking classes to former customers. At first, I was challenged by how to convey cooking information to those who were not in the business professionally. As time went on I got better at it, and my classes were very popular. I enjoyed sharing what I had learned over the years, and it was great to interact again with people who loved food and cooking. I had missed that terribly. I began thinking this might be a new career.
In the third year after the sale of my restaurant, my youngest started all-day kindergarten.
The day after she started school, I paid a visit to the dean of The Culinary School at Kendall College. I had a close relationship with the school when I owned the restaurant, and I took on interns and hired many graduates. There was a rumor in Chicago that I had an "all-girl line," and I attracted a lot of female cooks because of that. It made me happy to see so many women in my own kitchen, after years of being the only one in other chefs' kitchens.
I have always felt that I have been extraordinarily lucky in my life.
It happened that Kendall needed an instructor, and I started immediately. I absolutely loved it.
The students were challenging: stubborn, oftentimes scared, sometimes scary (it's one thing when they cut themselves; another when they cut you), but always enthusiastic, with a love of the profession they were learning.
Eventually, the position of chef/instructor for the fine-dining restaurant became available, and I was asked to take it.
Once again I was back in a restaurant kitchen, and I had a staff that was cooking for real customers. The only problem is that my cooks would completely change out every 25 days, and most of them would have no line experience.
It has been a wild ride at times. But I get to do this every day with my students:
Teach them to love the hard work, the immediate gratification, and the constant challenge.
Teach them to love the rush of the line and the chance to make a dish perfect, over and over.
Teach them to love the burns and the cuts on their own bodies that are chefs' "badges of honor."
Teach them to love the late nights and the bonding with their fellow cooks.
Teach them to love their customers and to make them happy.
I told you that I feel as though I have been extremely lucky in my life. Sometimes, painful experiences can be a part of our luck.
If I hadn't gone through the highs and lows of my restaurant career, I wouldn't be standing here in front of you at the happiest and most fulfilling time of my life.
Second acts can seem frightening. We pick a career and think that's what we will do the rest of our lives.
But we are lucky to be in a business in which there are many paths to take.
Don't be afraid to make a change. I'm living proof that the second act can be better than the first.
---
Peggy Ryan is a chef-instructor and the daytime executive chef of The Dining Room at Kendall College in Chicago.