Guest Speaker: On Sale Now! Apple Baking Advice
10 December 2014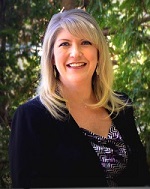 A primer on baking with apples, from someone who should know (or at least knows whom to ask).
By Wendy Brannen
I know that Bed, Bath & Beyond is a great resource for purchasing household goods—and for 20% off, at that, with those ubiquitous coupons—but until recently I didn't realize the big-box retailer has an excellent blog.
"Above & Beyond" blipped on my radar when a fun and friendly freelancer called to ask me about baking with apples for a consumer blog story. That's also when I realized, "You know, I work for the U.S. Apple Association. I really should know more about baking with apples!" Thus, I tried to go "above and beyond" to find out a little more from a handful of subject-matter experts.
Jane Bonacci is a dear friend and food blogger from San Francisco who has a tsunami-sized love of food—and creating good food recipes. I love her advice for a simple-but-saucy baked apple. (No crisps or crumbles needed here, folks!) Says Jane, "If you want to make baked apples, leave them whole, peel them about halfway down from the top, leaving the bottom half with peel on for structure. Remove the core and fill the hole with hard sauce—Oh, my!"
Jane, whose moniker is the Heritage Cook, gave great tips not only for a baked apple, but also for baking with apples. When using chunks of apples in baked goods, she advises that you don't want to add too many or your cake won't hold together easily; and, smaller chunks are best. Some apples fall apart when cooked, while others hold their shape. Depending on what you are looking for, a blend of the two textures often yields the best results. For apple pies, slicing some and chunking others also adds nice texture. Finally, get creative with the spices you use—you don't have to always use cinnamon.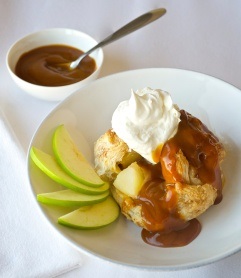 One note of advice was consistent in the apple-baking poll: Mixing apples with different flavor profiles adds interest and depth. Jane recalls, "I grew up using only Granny Smiths for pies. These days Winesaps, Jonagolds, Mutsus and Pink Ladies all contribute to beautiful baked goods."
Texture is decidedly key. Firm apples that hold their shape are best for recipes like this one for baked apples with fennel and onionfrom another one of my pals, Andrew Huddleston, whose blog name I just love! Cook In, Dine Out. I mean, isn't that fabulous?
It is hard to talk about baking with apples without talking about apple pie. (What other dessert has its own cliché?). Pastry chef and cooking-school instructor Jason Shriner, The Aubergine Chef, sayspeople like to use apples in a pie either cubed or sliced. He notes that, "Sliced lets you pack in way more apples, but cubed is much faster—of course, if you use one of those apple peeler and slicer gadgets, then it's super quick!" I like your thinking, Chef!
Shriner is a judge each year at the Celebrate America event in Historic Manassas, Va., and recounts, "When I judged the apple-pie baking contest last July 4th, nearly everybody used a blend of Gala and Granny Smith, which is an awesome blend. Some people like to use the popular Honeycrisp, but there are other, more economical options for baking that also work very well."
Apples pair remarkably well with a wide variety of flavors, too—obviously sweeter spices, but also savory spices like tarragon and cheese and even bacon. Because apples marry well with so many flavors, their juice is often used to bulk up fruit-juice blends. Shriner advises doing the inverse when cooking and baking with them. Try using cranberry juice instead of water. You can also boost the flavor using apple cider.
For a variety of textures, try stirring in uncooked apples into cooked apple filling. This works best with cubed apples. And, apple pies and turnovers get a lot of flavor boost when mixed with other things like cinnamon candy, dates and currants, nuts and dried fruits.
Apple chips, which can stand alone or garnish baked-apple goods, are really easy to make. Slice the apples fairly thin with a mandolin, coat with a thin dusting of powdered sugar, and bake at 200°F on a silicone mat until browned and crisp.
My final source for apple-baking advice is chef, culinary textbook author and culinary director for the Metropolitan Cooking and Entertaining Show Daniel Traster. I have eaten Chef Dan's pies enough to know he knows his stuff. (Keep reading—you'll see!). In consensus with my other experts, he advises that it's best to select a good percentage of firm apples that won't break down completely during baking and that you vary the flavor profiles:"Select a mix of tart and sweet apples, such as Granny Smith and McIntosh, to balance the acidity and sweetness of the final dish. A mixture of regional apples—Empire, Stayman, Honeycrisp, Pink Lady, etc.—lend a complex aroma to any dish."
Like most fruits, apples release a lot of liquid when heated. Chef Traster explains how to account for the moisture: "When baking apples in a dish that includes a bottom crust, like a pie, always toss the apples in flour to lightly coat. As the apples bake, the flour will absorb the released moisture to help keep the crust crisp. The bread crumbs in an apple strudel perform the same role. However, when baking apples in dishes that do not include a bottom crust—crisps, tarte tatin, etc.—the thickener is not needed; the released liquid will not soak into any crust and evaporates to some degree during the cooking process."
Because apples also collapse/shrink somewhat during baking, they will leave a gap between the apples and the upper crust in a traditional apple pie. While most people don't mind this, Chef Traster says you can eliminate the air gap by sautéing the apples for three to five minutes before using them in a pie. This allows the cell structure to partially collapse before the apples go into the pie, so they won't shrink nearly as much during baking.
"Quality apples have a wonderful bouquet that enhances a dish's aroma. Keep most baked apple dishes simple. In addition to sugar, lemon zest and/or juice and cinnamon are common complements to apples. A touch of ginger or lavender also enhances a baked-apple dessert, but stronger spices typically overwhelm the natural beauty of the apples."
Apples should be cored, peeled and cut before baking. To slow the enzymatic browning of the apples' surface, toss the apples with an acidic liquid such as lemon juice (or vitamin-C-fortified apple juice, which is primarily what is sold in stores).
If you like to go apple picking in the fall, Chef Traster (who has been kind enough to let me tag along for such adventures with his beautiful family!) suggests you can peel, core and cut apples in large quantities and then freeze them. Freeze in a single layer on a sheet tray; the apples will not brown. Then, transfer them to a large freezer bag. Because the apples were frozen separately, you'll be able to easily pull out the amount you need for baking.
That, my friends, is what I have been able to pick up recently about baking with apples. Pretty good advice for the kitchen and beyond, I'd say—no 20% coupon required!
Here are a few baked-apple recipes from USApple:
www.usappleblog.org/recipe-caramel-apple-dumplings
www.usappleblog.org/easy-applesauce-cake
www.usappleblog.org/all-american-apple-pie
---
Wendy Brannen is director of consumer health and public relations for the U.S. Apple Association based in Vienna, Va. E-mail her at This email address is being protected from spambots. You need JavaScript enabled to view it..