CIA's President Ryan One of 50 Most Powerful People in Restaurant Industry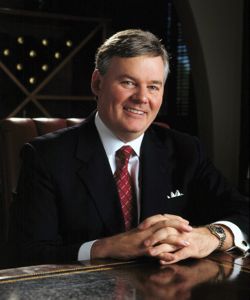 Dr. Tim Ryan, CMC, president of The Culinary Institute of America (CIA), has been chosen as one of the 50 most powerful people in the restaurant industry. The newly released Nation's Restaurant News (NRN) Power List recognizes the people who are leading and shaping the food world.
Ryan was honored in the category of "The Connectors: People who are bringing together ideas, talent, and funding in the restaurant industry."
The profile of Ryan cites the curriculum innovation that has taken place at the college during his 12 years as president, as well as the creation of professional leadership conferences and the opening of two new campuses. "Ryan, not content to rest on the school's reputation, has taken steps to keep the 67-year-old institution current," writes NRN's Ed Rubenstein. "Even as the rise of the celebrity chef introduced new exposure and scrutiny to culinary schools, Ryan helped to solidify the CIA's image as a proving ground for future foodservice leaders."
"Recognition by such an outstanding publication as Nation's Restaurant News testifies to the CIA's many contributions to the advancement of the industry," Ryan said. "The excellence of our college's educational programs and industry conferences promote leadership and growth. We are proud of our continuing innovations, including new majors and concentrations that will further prepare CIA students to shape the future of cooking and the foodservice industry."
Ryan is a 1977 graduate of the CIA. He has the unique background of being a Certified Master Chef and Culinary Olympic champion with an Ivy League degree, earning his doctorate in education from the University of Pennsylvania. He has been with the CIA since 1982, when he was recruited to serve on the faculty and to develop and run the college's ground-breaking American Bounty Restaurant. He became the CIA's fifth president in 2001.
Also named to the NRN list are fellow CIA graduates Steve Ells ('90) of Chipotle Mexican Grill and food-truck pioneer Roy Choi ('98).