Monroe Culinary Student Wins National Recognition in ACF "Lead Like Mike" Competition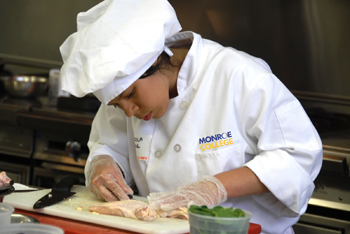 Gabriela Grande, a culinary-arts student at Monroe College in the Bronx, N.Y., has added a victory in the "Lead Like Mike" competition to her list of impressive culinary accomplishments. Grande was the 2010 America's Best High School Chef winner, a C-CAP student from Food and Finance High School, and the first Monroe culinary student to compete at the American Culinary Federation's Northeast Regional Conference, where she won a gold medal and finished second overall.
Grande attended the 2013 ACF National Convention in Las Vegas, July 21–25, where Michael Ty, CEC, AAC, outgoing president, served as her personal mentor. Grande, a member of the ACF Long Island Chapter, was selected as winner of the "Lead Like Mike" contest from a group of four other semifinalists chosen from 140 applicants nationwide.
Eligible applicants had to be either a first-, second- or third-year full-time culinary student enrolled in a degree-granting culinary program at a university or college, or an apprentice in an American Culinary Federation Education Foundation apprenticeship program; an ACF member; and at least 18 years old. Entrants submitted a signed letter of endorsement from their dean or department chair, as well as a 500-word essay describing why they aspire to be a culinary leader and how working with Ty at the 2013 ACF National Convention would help them reach their goal.