Monroe Culinary Reaches Milestone at Greater New York Culinary Challenge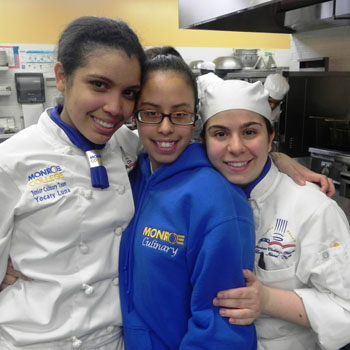 On May 11, more than 40 students and professional chefs converged on the New Rochelle Campus to compete in the Greater New York Culinary Challenge (GNYCC) at the Culinary Arts Center. Besides medals awarded at this competition, there was another award at stake: The Dean's Cup. This award, given by Dean Frank C. Costantino to the outstanding student culinarian, was on the line for 10 of Monroe's most accomplished young culinary competitors.
The competition was an "iron chef" format that had the students preparing an entrée from a basket of ingredients. First-year student Rossella Cangialosi, Barry Tech BOCES, won the inaugural Dean's Cup with a silver medal for her sautéed chicken breast with mushroom sauce. Runner-up to the cup, also a silver-medal winner, Sade Aguila, 2011 America's Best HS Chef from Food and Finance, recorded a milestone medal, earning the 400th competition medal won by Monroe Culinary since April 2009.
Silver medals were also won by Enmely Soriano (Passaic County Tech), Kencito Vernon (Food and Finance), Yocary Luna, 2012 America's Best High School Chef from Food and Finance, and Kimani Hines, Gateway School. Bronze medals in the Dean's cup were won by Katherine Taveras, C-CAP Philly and captain of the 2013 Junior Culinary Team, along with her teammates, Carmen Albino, Port Richmond C-CAP, and Laura Sanchez, Passaic County Tech. Lealy Irizarry, Truman High School, also earned a bronze medal.
Other Monroe Culinary students were vying for medals, as well. Alberto Obando, LIC High School, earned his first individual student medal, a silver, for his trio of Cornish game hen. It was student gold medals for Jovita Palafox, Port Richmond C-CAP student, whose chocolate/banana cake was a favorite of the judges, and Nashali Rivera, Food and Finance C-CAP student, who impressed the judges with her Cornish hen dish. Rivera earned the highest score posted on the day. Brenda Lara, Port Richmond C-CAP student, earned her first professional gold medal in pastry for her tropical entremets with mango-caramel glaze. Lara registered higher scores in her category than the professional chefs who competed.
Students were on hand from Lincoln Culinary Institute, Hartford, Conn.; Le Cordon Bleu, Boston; SUNY Schenectady; and SUNY Delhi, as well as professional chefs from throughout the area. At the end of the day, Monroe Culinary notched 14 more competition medals, including the historic 400th.
"I remember the first group we brought to Long Island in April 2009—17 kids, all winning medals and starting this wonderful tradition—so many competitions later and the students keep getting better and better!" says Costantino.
That concludes the 2012-2013 competition season for Monroe Culinary, which will embark on the state-championship run in a few short months. "The goal is always the same ... we compete to win the state championship and get to the regionals, which will be held in Rhode Island this year," says Costantino. The road to Rhode Island begins in September.
The Monroe College School of Hospitality Management and The Culinary Arts offers associate degrees in culinary arts, baking and pastry and hospitality management, as well as a bachelor of business administration in hospitality management with concentrations available in tourism and destination management, as well as culinary management. An executive leader master's degree in hospitality management is also offered.
Currently, approximately 400 students are studying culinary or pastry Arts at Monroe College. The core curriculum in both culinary and pastry culminates with a real-world experience in the college's dining lab and pastry kiosk, both open to the public. The breadth of electives is vast and includes: charcuterie, garde manger, Italian regional cuisine, French cuisine, chocolates & confections, showpieces and grand buffet and Latin and Caribbean cuisine. The majority of culinary and pastry students stay on for their BBA, and many more are directly admitted into the bachelor's program, earning their AAS en route.
There are a number of one-of-a-kind curricular and extra-curricular opportunities for students including a competition team that has won more than 350 medals to date, a study-abroad program in Italy and a Disneyworld Internship Program.
Monroe College Culinary Arts classes are taught in the Culinary Arts Center, a state-of-the-art culinary instructional facility. The four kitchen labs on the college's New Rochelle campus include two à la carte, one banquet and one baking/pastry kitchen. An additional facility includes a dining lab, à la carte kitchen and advanced pastry lab.
---
Photo (l. to r.): Monroe's medal-winning students Yocary Luna, Nashali Rivera and Rossella Cangialosi.