CIA Heritage Professor Sonnenschmidt Returns to Speak with Graduates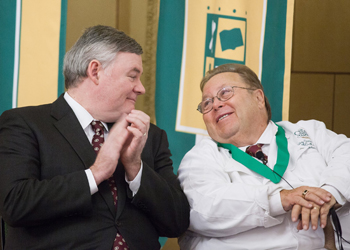 Frederic "Fritz" Sonnenschmidt, CMC, AAC, spent 34 years as a faculty member and dean of The Culinary Institute of America (CIA) before his retirement in 2002. More than a decade later, he returned to the college's Hyde Park, N.Y., campus to deliver words of encouragement and inspiration to 69 recipients of associate degrees in culinary arts and baking and pastry arts.
"Cooking and baking is an art. It is a science. And it is a way of sharing," Sonnenschmidt told graduates at the commencement ceremony on March 1. "Listen and learn and be willing to share your knowledge and allow others to share with you. That's how you will stay on the cutting edge."
Sonnenschmidt founded the Gourmet Society student organization at the CIA when he began teaching in 1968. The college was still located in New Haven, Conn., at the time, four years before moving to its current location in the Hudson Valley. The Gourmet Society remains active on the CIA campus to this day.
Sonnenschmidt was born in Bavaria and worked in hotels in Germany and England before immigrating to the United States in the early 1960s. A Certified Master Chef, he was named the American Culinary Federation's Chef of the Year in 1994.
A fan of Sir Arthur Conan Doyle, Sonnenschmidt is co-author of Dining with Sherlock Holmes (Fordham University Press, 1990), among his several cookbooks.
College President Tim Ryan, CMC, AAC, had Sonnenschmidt as an instructor when he was a CIA student in the 1970s. Following Sonnenschmidt's address, Ryan called him "truly one of the finest chefs who has ever walked these halls."
As one of the longest-serving faculty members in the history of the college, Sonnenschmidt was named a CIA Heritage Professor in 2006.
---
Photo:Dr. Tim Ryan, CMC, AAC (l.), president of The Culinary Institute of America, enjoys a light moment with keynote speaker Fritz Sonnenschmidt, CMC, AAC, during commencement ceremonies at the CIA's Hyde Park campus on March 1, 2013. Sonnenschmidt is one of the longest-serving faculty members in the history of the college, and Ryan was his student in the 1970s. Courtesy of CIA/Phil Mansfield