Talented Teens Bring the Illinois ProStart Culinary Trophy Back to Technology Center of DuPage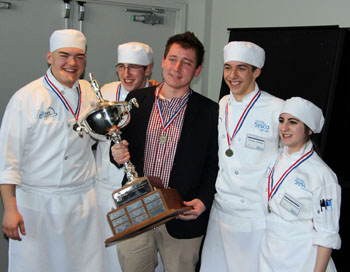 The big traveling trophy is back again at Technology Center of DuPage (TCD) in Addison. On Feb. 23, TCD's high-school culinary team pulled off a repeat state championship win at the 12th Annual Illinois ProStart Invitational, hosted by the Illinois Restaurant Association Educational Foundation (IRAEF). TCD team members include Julia Matiradonna, Zachary Molokie (both from Carol Stream), Jared Dollinger of Glen Ellyn and Benjamin Kitchen of Wheaton. All are high-school seniors and second-year students in TCD's Culinary, Pastry Arts & Hospitality Management program. As state ProStart champs, the TCD team now has the honor of representing Illinois at the National ProStart Invitational, April 19-21, in Baltimore, Md.
"We must have practiced our menu at least 50 times, not counting the times I practiced at home," said team member Dollinger, whose home high school is Glenbard South. The team's menu included a carrot soup with lobster salad; sautéed chicken and braised-chicken Swiss chard roll; and a white-chocolate orange mousse. Photos from the competition may be viewed at www.tcdupage.org.
For the Illinois invitational, the IRAEF welcomed 12 culinary teams and nine management teams for a full day of culinary and restaurant-management competitions. The event took place at Chicago's Kendall College and was sponsored by SYSCO Foodservice-Chicago.
Teams in both competitions were judged by leading chefs from restaurants and postsecondary schools as well as professionals from restaurants, small companies and corporations. Those placing first through third from each competition were awarded prizes as well as tens of thousands of dollars in scholarships to pursue postsecondary education in foodservice and restaurant management.
For the state culinary competition, teams had to prepare two identical portions of a three-course meal (appetizer, entrée and dessert) within a 60-minute timeframe. The students were judged on knife skills and poultry fabrication; method and technique; sanitation and safety; professionalism; presentation; recipe costing; organization and teamwork.
Though she thought the team had done well, team member Matiradonna felt even better after the judges' critique session, reporting that "One of the judges called our menu 'inspirational.' They wished they could eat the whole thing."
TCD instructors Chef Matt Barker and Chef Kyle Neuner coached the team and will accompany students to nationals. Chef Faith Jennetta is the coordinator of TCD's award-winning culinary program, which features the industry-recognized ProStart curriculum and is the only Illinois high-school program certified by the American Culinary Federation.
Technology Center of DuPage is the career and technical education elective for 24 DuPage area high schools, focusing on college and career readiness. TCD has 24 career electives offering high-school credit and transferable college credit, industry certifications and the opportunity for work-based learning experiences.
---
Photo: TCD's Culinary Team and instructor-coach (l to r): Benjamin Kitchen, Jared Dollinger, instructor Kyle Neuner, Zachary Molokie and Julia Matiradonna.