Per Se Chef Eli Kaimeh Speaks to Graduates at The Culinary Institute of America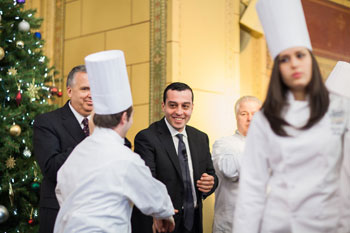 Eli Kaimeh, chef de cuisine at the world-renowned restaurant Per Se in New York City, returned to his alma mater to deliver the commencement address at The Culinary Institute of America (CIA) on Dec. 20, 2012. He spoke to graduates at the college's Hyde Park, N.Y., campus about the importance of respecting the food world and each other.
Kaimeh, 34, has been heading the kitchen at Per Se for almost three years and has been with the restaurant since its opening in 2004. Per Se earned the title of Best Restaurant in America and sixth best in the world from England's Restaurant magazine in 2012. It was also honored last year by the Continental Restaurant Awards as the Best Restaurant in North America. Per Se holds the highest possible rating of three stars in the Michelin Guide and received a rare four-star review from The New York Times.
Following his graduation from the CIA in 2000, Kaimeh, a Brooklyn native, honed his skills under top New York City chefs at Gramercy Tavern, Restaurant Daniel and Tocqueville Restaurant before being hired by Thomas Keller as chef de partie at Per Se.
At the final commencement of the year, 69 students received their associate degrees in culinary arts and baking and pastry arts (photo courtesy of the CIA/Phil Mansfield). The CIA holds 16 associate degree and three bachelor's degree graduations at the Hyde Park campus each year.