The Institute of Culinary Education Provides Curriculum for Fall 2012 Launch in Russia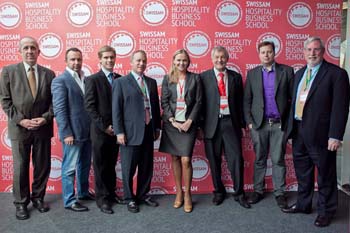 The Institute of Culinary Education (ICE) in New York City announces a co-venture with Russian-based Dve Palochki restaurant group to open a series of culinary schools under the name SWISSAM Hospitality Business School. The first school is scheduled to open in St. Petersburg in September 2012 and a second location in Moscow during 2013. The third partner in the SWISSAM venture is IMI, a hospitality college based in Lucerne, Switzerland.
Dve Palochki, which operates more than 35 pan-Asian eateries in Russia, believes that the culinary- and hospitality-education market is underdeveloped in its country. The SWISSAM schools are designed to address that need through training students using curriculum from ICE for careers anywhere in the world, from hotels and resorts to high-end restaurants, caterers and cruise ships.
ICE CEO Rick Smilow and Richard Simpson, director of education at ICE, traveled to St. Petersburg in May for a press conference to announce SWISSAM's formation. After the trip Smilow commented, "ICE's curriculum provides a solid foundation and a global approach to cuisine. It is a fascinating new example of globalization that Russian entrepreneurs have sought out a culinary school in New York City for direction, inspiration and affiliation."
SWISSAM will offer a range of program lengths equivalent to U.S. diploma and degree programs. Three of ICE's diploma programs, Culinary Arts, Pastry & Baking Arts and Culinary Management will be incorporated into SWISSAM's curriculum. In each program, the student will secure a broad base of knowledge and kitchen skills so they will be immediately employable in a wide range of culinary operations around the world.
"We are thrilled to collaborate with ICE as the premier culinary education partner to provide Russian students the best culinary skills and job placement opportunities in the competitive, global market," says Walter Paltenstein, president of SWISSAM.
The Institute of Culinary Education (ICE) is New York City's award-winning center for culinary education. Founded in 1975, the school offers highly regarded 8 to 13 month career training programs in Culinary Arts, Pastry & Baking Arts, Culinary Management and Hospitality Management. ICE also runs of the largest schedules of recreational cooking courses in the nation. In 2008, ICE was named the International Association of Culinary Professionals' Culinary School of the Year and is a past winner of the ACCSCT's School of Distinction honor.
To learn more about the curriculum at ICE, visit www.iceculinary.com. To see what's cooking around the school read DICED at blog.iceculinary.com, like ICE on Facebook (iceculinary) or follow ICE on Twitter (@ICE Culinary).